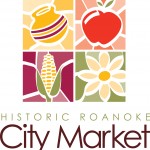 The downtown Roanoke City Market is on the move next month — at least for one afternoon a week. The farmers market will set up outside the Kirk Family YMCA on Thursdays in June from 4:00 to 7:00 pm. WFIR's Evan Jones has the story.
Here is the full Downtown Roanoke, Inc. news release
Historic Roanoke City Market announces expansion
The Historic Roanoke City Market has partnered with the Kirk Family YMCA to expand the Market to a new part of downtown. Thursday evenings during June, the Market will set up outside the Y near the corner of 5th Street and Luck Avenue from 4 p.m. to 7 p.m. Vendors will offer fresh fruit, produce, baked goods, wild caught fish and grass fed beef.
The mission of this endeavor is to provide access to farmers' market produce and goods to Kirk Family YMCA members and to neighbors and businesses in Downtown West and Old Southwest.
Customers will have the ability to pay with a credit card, cash or use an EBT card for SNAP benefits. New grants made possible by Carilion Clinic Foundation and the Foundation for Roanoke Valley will fund a double up program in which EBT/SNAP customers will now receive a $1 match for their $1 purchase, up to $50.
: