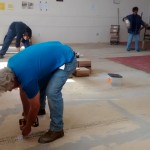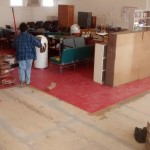 The RAM house plays a vital role in helping Roanoke's homeless population during the day. A recent flooding incident rearranged their operation temporarily, but as WFIR's Kelsea Pieters reports, things will be back to normal soon:

An expanding manufacturing company that has moved to larger quarters in Roanoke County could be a harbinger of improving economic conditions … more from WFIR's Gene Marrano:
A new study puts the economic impact of the Hotel Roanoke and Conference center at $616 million since it opened 20 years ago. City officials say it's a good example of what public money, wisely spent, can generate. WFIR's Evan Jones has the story.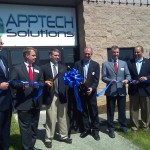 A local company that makes custom water and wastewater treatment systems cut the ribbon on its new 27-thousand square foot home in Western Roanoke County this morning … Apptech plans to triple their current workforce of 31 employees … the company had been located in two other smaller buildings elsewhere in the valley before moving to their new location. Chief Technology Officer Dan Early is a Virginia Tech graduate and the co-founder – he spoke to WFIR's Gene Marrano:
Roanoke's annual Earth Day Festival is back on Saturday – in a new location … more from WFIR's Gene Marrano:

RICHMOND, Va. (AP) _ An associate dean of students at the University of Virginia says a discredited Rolling Stone article caused her professional and personal harm by portraying her as insensitive and unresponsive to an alleged victim of a gang rape. Nicole Eramo said in an open letter Wednesday that the magazine has not done enough to make amends for the damage it caused.  A report from the Columbia Graduate School of Journalism released earlier this month said the Rolling Stone article was a "story of journalistic failure that was avoidable." Eramo has hired a law firm that specializes in defamation lawsuits, but has not said whether she plans to sue the magazine.

RICHMOND, Va. (AP) _ The U.S. Department of Education has recognized five Virginia schools for promoting energy efficiency and environmental awareness. The schools were among dozens nationwide recognized by the Green Ribbon Schools Program on Wednesday. The Virginia schools are Coles Elementary School in Manassas; Crozet Elementary School in Crozet; Bassett High School in Bassett; the Steward School in Richmond; and the University of Virginia in Charlottesville. The university also received the Postsecondary Sustainability Award.
CHARLOTTESVILLE, Va. (AP) _ The University of Virginia is offering an early retirement package to about 800 employees. The voluntary package announced Tuesday includes nine months' salary and a $9,000 health care subsidy. It's being offered to eligible staff members 55 years old or older who have at least 20 years of uninterrupted employment with the state. Eligible employees work either in U.Va.'s academic division or at the College at Wise, in positions ranging from administration to technology support. Faculty and classified staff aren't eligible for the retirement package. University chief human resources officer Susan A. Carkeek tells The Daily Progress  that the early retirement package is "a one-time offer."  Carkeek says the goal is to help reduce costs in the long term by restructuring or eliminating some positions after employees leave.
From the Virginia Tech Department of Athletics: Longtime and popular radio play-by-play broadcaster, Bill Roth, is leaving his position to accept a similar position at UCLA. The Tech athletics department will honor the legendary announcer known as the "Voice of the Hokies" for his contributions to Virginia Tech at this Saturday's Maroon-Orange Spring Game. Roth, who works for IMG College, Virginia Tech's multimedia rights holder, will make his final call for Virginia Tech this Saturday. At the end of the first quarter, the department will recognize Roth by announcing the establishment of the Bill Roth Student-Athlete Endowed Scholarship, which will be awarded annually in perpetuity to a deserving Virginia Tech student-athlete with an interest in communications or broadcast journalism.
(Continue reading for the rest of the news release.)
As head of the Council of Community Services Pam Kestner was involved with a range of social issues here in the Roanoke Valley … now she's involved at the statewide level … as WFIR's Gene Marrano reports: