This year marks the 100th anniversary of the National Park Service, and to celebrate the occasion, a march is scheduled Sunday around Roanoke Mountain. WFIR's Bob Clark has the story.
The cases of two former Virginia Tech students charged in the killing of 13-year-old Nicole Lovell will be heard by a grand jury July 26, after new details emerged in court. WFIR's Ian Price has details.

RICHMOND, Va. (AP) – Authorities say that Virginia's state and regional jails have housed at least 19,882 immigrants living in the U.S. illegally. The Richmond Times-Dispatch reports that data collected by the State Compensation Board shows that the between 2008 and 2015, jails housed at least 14,460 immigrants who were in the U.S. illegally. The board says there were another 5,422 offenders in jailers' custody who were scheduled for deportation. Officials say the number is likely much higher. The immigrant or citizenship status of tens of thousands of inmates over that time period could not definitively be established and officials say many them are likely residing here illegally. Virginia lawmakers passed a law in 2008 that requires jails to report the number of people in their facilities who entered the U.S. illegally.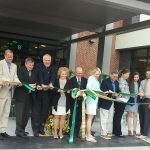 Roanoke County public school and government officials helped cut a ribbon today – formally marking the completion of the renovation and expansion project at Glenvar High School – which follows two years of construction. Principal Joe Hafey praised students and staff for enduring trailers with leaky roofs and muddy parking lots during the renovations. The final price tag was about 24 million dollars. Senior Kelly Devens spoke briefly about having started at the old school – and enjoying the makeover during the past few months:
Professional cyclists from around the U.S. will take to the streets of downtown Roanoke tomorrow, rain or shine. WFIR's Starr Anderson has the details.
For the complete race schedule click here.

The deadline to purchase tickets for the popular Let's Do Lunch program by the Local Area on Agency in fast approaching. More on the story from WFIR's Bob Clark

They are rivals for patients – and now on the softball field. For a third year Carilion Clinic and Lewis Gale Health System employees will battle it out on Sunday for a good cause – raising money for the American Heart Association.  Game time at the Cave Spring High School softball field is 2pm on Sunday rain or shine. Tickets are six dollars and the series is tied at one win apiece. Kimberley White is a Carilion registered nurse:
RICHMOND, Va. (AP) – Prosecutors may reveal more details Friday in the case against two former Virginia Tech students accused of plotting to kidnap and murder a socially awkward 13-year-old girl who authorities say climbed out a window to rendezvous with them after midnight last January.   A hearing for 18-year-old David Eisenhauer and 19-year-old Natalie Keepers is scheduled Friday in Montgomery County Juvenile and Domestic Relations Court. They are charged in the disappearance and death of seventh-grader Nicole Lovell of Blacksburg. At a bond hearing in February, prosecutor Mary Pettittt said the students carefully planned to kidnap and kill Lovell, arranging a pre-dawn meeting online after buying cleaning supplies and a shovel at separate Wal-Mart stores. Keepers has denied being present at the killing but allegedly helped Eisenhauer dispose of Nicole's body.

RICHMOND, Va. (AP) – A federal judge has upheld Virginia's 2013 law requiring voters to show a valid photo ID at the polls.  The Virginia Democratic Party sued state elections officials, saying the photo ID requirement unconstitutionally suppresses voting by blacks, Latinos and young people. The Richmond Times Dispatch reports  that U.S. District Judge Henry Hudson wrote Thursday that the Democratic Party did not prove that the law violates the Voting Rights Act or several constitutional amendments.  The judge noted that Virginia has made accommodations to allow everyone to vote, such as absentee voting, provisional ballets and free voter IDs.

A popular event at the Floyd Fest site that hasn't been held for several years is returning next month. WFIR's Gene Marrano has more on "Floyd Fandango":