From Wason Center: NEWPORT NEWS, Va. – Hillary Clinton's strong lead in Virginia over Donald Trump appears to be rooted solidly in voters' opinions that she is more qualified to be president than Trump on temperament, experience, and key issues, including military and foreign policy issues, according to a survey released Wednesday by the Wason Center for Public Policy at Christopher Newport University.
Twice as many voters, 58-28 percent, say that Clinton, not Trump, has the right temperament to be president, and twice as many (60-26 percent) say that she, not Trump, has the right experience. By a close margin, voters say that Trump is more trustworthy and honest than Clinton, 35-32 percent.

This presidential election year is leading many Virginians to register to vote, but the state's system to process that increased number is experiencing some slowdowns and occasional outages. WFIR's Evan Jones has the story.

A communications professor who keeps on eye on politics offers his take on Monday night's presidential debate. More from WFIR's Gene Marrano:

The Virginia Cooperative Extension wants Head Start parents to set good examples for their kids via healthy cooking classes. More from WFIR's Gene Marrano:

Fashionista Roanoke kicks off Fashion Week 2016 on Thursday, continuing the non-profit's goal to provide charity through fashion. WFIR's Starr Anderson has the details.

A team from Jefferson College of Health Sciences will head to Uganda next month for a project to help health providers there — and to aid dozens of children dealing with a difficult condition, as WFIR's Evan Jones reports.

An event open to all but focused on making sure African-American women are doing their best to prevent or detect breast cancer early returns on Thursday night. More from WFIR's Gene Marrano on "Sisters Night Out":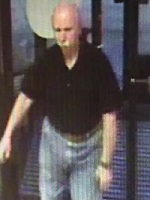 From Roanoke Police: Roanoke, Va.– Roanoke Police need your help identifying a man who touched two teenage girls in a non-sexual manner and began speaking with them on September 24, 2016 at Valley View Mall. The first incident was reported to police at 8:28 p.m. Officers collected video evidence of the suspect. Officers later learned of another incident that happened to a separate teenage girl a short time before officers were called to the mall. Officers spoke with the second girl who provided a similar account of what had occurred with her. She provided a description of the suspect. This incident also occurred at the mall. The suspect is described as a bald white male, large build, wearing a black polo shirt, blue jeans and white shoes. Officers have provided the attached photo to mall security and loss prevention personnel. Anyone who might recognize the suspect is encouraged to call the RPD tip line at 540-344-8500. Anonymous text messages can be sent to the number 274637 [Crimes]. Please start the text message with the keyword "RoanokePD:" to ensure that it's properly sent.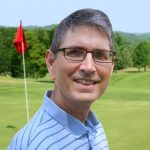 Floyd-based golf blogger and author Neil Sagabeil (pictured) once interviewed Arnold Palmer for a book he wrote about the 1955 U.S. Open. Sagabeil says Palmer – who died at age 87 over the weekend – may have had the greatest impact on the game over the past 60 years. Sagabeil  also says the duels between Palmer and Jack Nicklaus in the 1960's pushed Nicklaus to become perhaps the top golf pro of all time.

The latest Christopher Newport University survey has good news in Virginia for Hillary Clinton – but negative numbers as well for both major party presidential candidates. More from WFIR's Gene Marrano: