From the Bedford County Sheriff's Office: At 2:11a.m. May 28, 2015, Bedford County 911 dispatchers received a call to 115 Mill Acres Dr. from a man reporting his wife had stabbed him. The caller, James Dudley, age 61, said while he was sleeping his wife stabbed him with what he believed to be a kitchen fork. Deputies arrived on the scene at 2:32 a.m. and arrested Barbara Dudley, age 63, without incident. She was transported to the Bedford Adult Detention Center and is being held without bond. She was charged with malicious wounding. The victim refused medical treatment.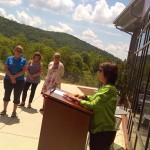 Charlotte Moore made it official today – she will run for a third term on the Roanoke County Board of Supervisors from the Cave Spring district … running again as an independent … Moore said she can appeal to voters across the board … Republican George Assaid will be Moore's opponent at the polls in November:

The Children's Education program at the Taubman Museum will benefit from the annual Sidewalk Art show in downtown Roanoke this weekend … WFIR's Gene Marrano has that story:

It's not a new issue but at a Town Hall meeting yesterday in Roanoke the discussion was about bringing workforce development to the "next level" … WFIR's Gene Marrano has more:

Starting Monday, you can submit a passport application at the South County Library in Roanoke County. The library has five people trained to accept passport applications, but you must make an appointment for your application to be processed. WFIR's Evan Jones has the story.
Click here for full information from the Roanoke County Libraries System
Click here for full U.S. State Department passport information

RICHMOND, Va. (AP) _ The challenger to Virginia House Speaker William J. Howell is suing members of the Virginia State Board of Elections. Susan Stimpson alleged in a lawsuit filed in Stafford County Circuit Court on Wednesday that the elections board hurt her campaign by ruling that voters could submit electronic signatures on absentee ballot request forms. Stimpson said the board's ruling earlier this month on electronic signatures was "arbitrary and capricious." The board's ruling came after receiving a request for clarification on state policy from Howell's campaign. Stimpson is a former Howell protg who has said the speaker has lost touch with his small-government roots. A spokesman for Howell said Stimpson's attacks are "getting more ridiculous by the day."

On Saturday, May 9th, the letter carriers of the National Association of Letter Carriers Local Branch 524 collected 264,257 pounds of food from residents along their postal routes during the annual Stamp Out Hunger food drive. The event is part of the nation's largest single-day food drive, held in 10,000 cities and towns in all 50 states and the District of Columbia. In our region, food collected benefits Feeding America Southwest Virginia.

RICHMOND, Va. (AP) _ A task force created by Gov. Terry McAuliffe is poised to issue its recommendations to combat sexual assaults on Virginia's college campuses. Attorney General Mark R. Herring will present the recommendations to McAuliffe on Thursday. The report will be delivered following the final meeting of the Task Force on Combating Campus Sexual Violence. The task force lists some of its draft recommendations on its website. They are subject to revision in the final report. One draft recommendation would create a database of students who have been dismissed or expelled from a college or university for forcible sex offenses or violations of the sexual misconduct code. The task force included campus administrators, advocates, law enforcement, higher education attorneys, health professionals and others. McAuliffe will review the recommendations for possible action.

Shortly after 10:00 a.m. yesterday the Town of Bedford Fire Department and units from the Bedford County Department of Fire & Rescue were called a home on Screechum Hollow Road for a report of a kitchen fire. It took crews 30 minutes to get the flames under control, and the damage was contained to the kitchen. Damage was estimated at $20,000. No injuries were reported.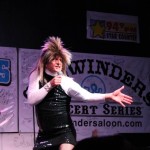 The third annual Lip-syncing contest at Sidewinders in downtown Roanoke tomorrow night benefits a program that teaches youngsters better eating habits … more from WFIR's Gene Marrano: