Chaos Mountain Brewing is releasing a very limited supply of a new take on one of its classic beers tomorrow. WFIR's Ian Price has more:
He is now the highest-ranking minority member on the Senate Intelligence Committee and Virginia's senior Democratic Senator Mark Warner has an agenda. WFIR's Gene Marrano reports:

VDOT is preparing long-sought safety improvements to a busy Botetourt County highway — and the work is now set for completion sooner than first anticipated.The two-lane stretch of US 220 between Eagle Rock and Iron Gate is narrow and winding in place for the traffic it handles. WFIR's Evan Jones has the story.
VDOT will conduct a design public hearing hearing today at Eagle Rock Elementary School, starting at 5:00 pm.
Click here for full information on the US 220 project.

The Roanoke Higher Education Center is staying in-house for its next executive director. The center's board has appointed Dr. Kay Dunkley effective January 1st – she currently oversees Virginia Tech's program at the downtown education hub. McKeon was cited today with several proclamations – and a rocking chair from his staff during an afternoon reception. Dunkley calledthe retiring executive director a "town crier" and "an ambassador" for Roanoke.
From Town of Bedford Police: – The Bedford Police Department is asking for help locating a missing 16-year-old girl. Brianna Nicole Hedrick was last seen at home Monday at about 9:30 p.m. She is 5′ 1″ tall and weighs about 130 pounds.  Police said she has several tattoos and piercings; a tattoo of the Italian flag with two black butterflies on her forearm, a tattoo on her left hand that reads "end of the road," and her ears, nose, and upper right lip is pierced with an older piercing in her eyebrow. She has blue eyes and brown, long, straight hair. Her ears, nose and upper right lip is pierced with older piercing in her eyebrows. If you have any information about Brianna, please call the Bedford Police Department at 540-586-7827 or the Central Virginia Crime Stoppers at 1-888-798-5900 and www.cvcrimestoppers.org.
Speaking on WFIR this morning U.S. Senator Mark Warner called fellow Virginia Senator Tim Kaine "relentlessly optimistic" despite his recent failed bid for Vice-President on the ticket with Hillary Clinton – Warner also talked about Kaine's return full-time to Senate duties. Senators Warner and Kaine attended law school together.  Warner also says they've been friends for almost four decades:
Hear the complete conversation from "the Roanoke Valley's Morning  News" on the WFIR by clicking below

The number of offenders in restrictive housing in Virginia prisons is among the 9th lowest in the United States according to a recent report. WFIR's Ian Price has more: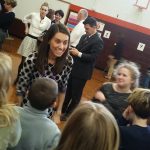 They are often called "the Oscars of Teaching" – a special cash award and recognition for a job well done in Vinton today. A $25,000 surprise today for a 4th grade teacher at W.E. Cundiff Elementary in Vinton. The Milken Foundation presented Lindsay Murray with the award at a morning assembly. The foundation works with state departments of education to find worthy recipients. Murray has taught at Cundiff for seven years and was the only teacher in Virginia to receive one of this year's Milken Foundation awards.
This is the 75th anniversary of the day that profoundly changed the United States  and the world — the Japanese attack at Pearl Harbor. At the National D-Day Memorial in Bedford, educators say many people wondered at the time if our country had the resolve and ability to successfully meet the challenges and sacrifices needed to prevail. WFIR's Evan Jones has the story.

The images are devastating and there are more than a dozen-related deaths but Gatlinburg will bounce back from the recent wildfires says a Virginia Tech professor. More from WFIR's Gene Marrano: