A variety of fall classes are now forming at a local theatre. Details from WFIR's Bob Clark:
A new Roanoke College poll shows Democrat Hillary Clinton leading Republican Donald Trump by 13 percent among Virginia residents, but when up against other GOP presidential candidates like Jeb Bush, Marco Rubio and Scott Walker, the margins are much narrower — anywhere from one to four per cent.  There is a big gender gap, with men slightly favoring any of the Republican contenders and women strongly in favor of Clinton. She trails Bush, Rubio, and Walker among Independents by 10-17 points, but leads each among moderates by margins ranging from 25 to 35 percent.
(Click here for full poll results and methodology.)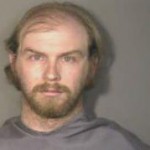 The Franklin County Sheriff's office is investigating the death of a three-year-old that occurred in the Hardy area on Sunday … rescue crews found the child unresponsive after they were dispatched … the child was pronounced dead at the scene … a medical examiner said yesterday that resulted from a small caliber gunshot wound … now the child's father Jeremiah Neiderhiser (pictured) has now been charged … he's being held at the Western Virginia Regional Jail.

From the City of Salem: The Salem Fire & EMS Department responded to a structure fire at 20 Turner Rd., Brinks, Inc., this morning at approximately 1:52 a.m. No one was in the building at the time of the fire, but the entire structure did sustain heavy fire and smoke damage. The first unit arrived within six minutes of receiving the call and found heavy black smoke coming from the building. It took firefighters more than an hour to contain the blaze. The fire appears to have started inside a vehicle that was parked inside the building. Approximately 36 personnel from the Salem Fire & EMS Department (Engine 1, Engine 2, Engine 3, Medic 801 & Medic 803), the Roanoke Fire & EMS Department (Engine 4 & Ladder 5), the Roanoke County Fire & Rescue Department (Tower 9, Wagon 9 & Air 9) and the Salem Rescue Squad (Squad 1 & Medic 154) responded to the call. Roanoke County Fire & Rescue Department (Wagon 10) assisted with handling additional City of Salem emergency calls. The fire remains under investigation by the Salem Fire Marshal's Office, and there is no damage estimate at this time.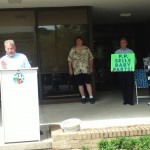 The furor over covert Planned Parenthood videos about the selling of fetal parts for research has led Al Bedrosian to call for Roanoke County to sever ties with United Way – which helps fund that agency … more from WFIR's Gene Marrano:
NORFOLK, Va. (AP) _ A fraternity has suspended activities at a university chapter in Virginia after an uproar over sexually suggestive banners hung from a private home where several of that fraternity's members live. Sigma Nu's national organization said it suspended the fraternity's activities at Old Dominion University in Norfolk pending completion of its investigation. Monday's suspension came after three large banners were draped Saturday from the balcony of a private home near the campus. The banners included one stating "Freshman Daughter Drop Off" with an arrow pointing toward the house's door. The banners stirred outrage on social media and condemnation from university officials and student leaders. Sigma Nu aid any fraternity members found responsible would be held accountable. Its statement says it also condemns the derogatory and demeaning language used on the banners.
RICHMOND, Va. (AP) _ The U.S. Supreme Court wants to hear from federal prosecutors before deciding whether former Virginia Gov. Bob McDonnell will have to go to prison while he appeals his corruption convictions. Chief Justice John Roberts issued an order Monday giving prosecutors until Wednesday to respond to McDonnell's request to remain free. The order also says a federal appeals court order that puts the wheels in motion to send McDonnell to prison will be put on hold until Roberts or the Supreme Court can decide on McDonnell's request. The ex-governor last week made a last-ditch plea to the high court after the 4th U.S. Circuit Court of Appeals rejected his request to remain free. McDonnell and his wife were convicted of doing favors for a wealthy businessman in exchange for more than $165,000 in gifts and loans.
ROANOKE, Va. (AP) _ A former Roanoke restaurant owner has been sentenced to one year and two months in federal prison for stealing disability benefits from the Railroad Retirement Board. The U.S. attorney's office says 46-year-old Christopher Mayo also was ordered Monday to repay more than $228,000 to the board. Mayo previously pleaded guilty to one count of stealing government money. He admitted that beginning in 2007, he falsely applied for and received monthly disability payments for which he was not entitled. An investigation showed that after applying for benefits, Mayo tried to conceal his ownership of Thelma's Chicken and Waffles in downtown Roanoke.
Roanoke County's Green Hill Park is the site for the Scottish Highland Games this Saturday from 9am to 6pm. The event will feature competition for both men and women with no fee to enter. The games will benefit Warrior 360. WFIR's Bob Clark has more.

Roanoke City has begun delivering big blue recycling containers to residents. WFIR's Bob Clark has more on that story…………..