RICHMOND, Va. (AP) _ Virginia lawmakers have approved a new state budget that includes a pay increases for state employees, boosts cash benefits for welfare recipients and gives Gov. Terry McAuliffe more money to spend on economic development. Lawmakers voted Thursday to approve a spending plan that does not raise taxes and also restores $30 million for local governments that had previously been cut. The GOP-controlled General Assembly did not include expanding Medicaid, a top priority for state Democrats. Virginia's budget situation has brightened in recent months due to higher-than-projected revenues and other factors, giving lawmakers more money to spend this legislative session. The budget includes a 1.5 percent pay increase in the state's share of teacher pay, and a 2 percent increase in the salaries of state police, state employees and college faculty.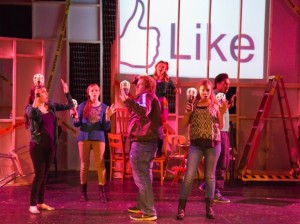 As it does once a year Roanoke Children's Theater is staging a play that tackles a serious subject for young people – this time its eating disorders … WFIR's Gene Marrano has more on "Eat – Its Not About Food":

The General Assembly has passed a bill permitting new law enforcement measures as part of investigations into many sex crimes — notably child pornography. More from WFIR's Evan Jones.

SALEM, Va. (AP) _ Roanoke County officials plan to create an advisory committee to gather information about the proposed Mountain Valley Pipeline. The goal is to help county officials and residents stay informed about the project's process.  The Roanoke County Board of Supervisors voted on Tuesday to form the committee. Supervisors say the pipeline's developers have failed to inform county officials about plans for the project. Mountain Valley Pipeline spokeswoman Natalie Cox told the Roanoke Times earlier this week that the pipeline team remains in constant communication with all county governments. The 300-mile pipeline is a joint venture between EQT Corp. and NextEra Energy Inc. It would run from Wetzel County, West Virginia, to another pipeline in Pittsylvania County.

RICHMOND, Va. (AP) _ The General Assembly wants to make sure Virginia remains friendly to wood stoves. After a spirited debate Wednesday, the state Senate approved a House-passed measure that would prohibit the State Air Pollution Control Board from adopting any regulations limiting emissions from home wood heaters. The board would also be prohibited from enforcing any such regulations adopted by the federal government. The U.S. Environmental Protection Agency has proposed regulations on new home wood heaters. Supporters of the bill warned that the EPA would take away wood stoves from Virginians who can afford no other source of heat. Opponents pointed out that any regulations adopted by the agency would apply only to new stoves, not existing ones. The bill was approved 32-7 and now goes to Gov. Terry McAuliffe.

HARRISBURG, Va. (AP) _ A recent study shows the poultry industry is a big contributor to Virginia's economy. The study by economic research firm John Dunham & Associates found that the industry contributed $13.7 billion to the state's economy in 2014. The study says more than 52,000 jobs are linked to poultry, including more than 15,000 jobs in the industry and more than 24,000 supplier jobs. Wages connected to the industry totaled $2.8 billion in 2014. Virginia Poultry Federation president Hobey Bauhan tells the Daily News-Record that poultry's economic impact extends to livelihoods in various service and product industries. John Dunham & Associates conducted the study for the U.S. Poultry & Egg Association.

RICHMOND, Va. (AP) _ The Virginia Senate has narrowly defeated a proposed private-school voucher program for disabled students. The measure would have allowed parents of a disabled child to apply for the child's share of state funds that would otherwise go to his or her local public school system. The money could be used for tuition, fees and books at a private school. The bill, sponsored by Del. Dave LaRock, a Loudoun County Republican, was passed by the House of Delegates 57-42 earlier this month. The measure was defeated Wednesday in the Senate when Lt. Gov. Ralph Northam, a Democrat, voted "no" to break an 18-18 tie. Two Republican senators, Ben Chafin of Russell County and John Watkins of Powhatan County, did not vote. Republican Majority Leader Tommy Norment of James City County abstained.

Due to the overnight snowfall, the Solid Waste Management Division has cancelled all collections for today, Thursday, Feb. 26. Unless otherwise notified, Solid Waste Management crews will resume normal operations on Friday, Feb. 27, with the following exceptions: No alleys will be serviced, due to snow accumulations and some side streets may not be serviced due to parked cars and snow mounds. Normal bulk collection and recycling (bottles and cans) will be collected on Friday as much as possible given conditions on residential streets.

RICHMOND, Va. (AP) _ There's more than one way to kill legislation in the Virginia General Assembly. There's the straight-up way: Put it up for a vote and lawmakers must go on record, pro or con. Then there's the stealthy way: Kill it in a subcommittee without a recorded vote, and it vanishes without a trace. It's a longstanding practice in Virginia's 400-year-old legislature. But transparency advocates say the public deserves better. A new broad-based coalition of 22 advocacy organizations says the system is undemocratic and should be changed. Transparency Virginia includes the League of Women Voters, the Sierra Club and the Virginia Coalition for Open Government. Throughout the 2015 legislative session, the group has been documenting instances of unrecorded votes, bills killed with no hearings, and failure to provide timely notice of meetings.

CHARLOTTESVILLE, Va. (AP) _ A local media report says Charlottesville Police are investigating a possible sexual assault against a female University of Virginia student. The Charlottesville Daily Progress ( http://bit.ly/1JOt7zI ) cited a university statement emailed to students, staff and faculty Wednesday as stating the woman was found unconscious in an apartment in that city Sunday evening and taken to the university's medical center. According to the paper, the statement added the student later had no memory of hours spent with a male acquaintance she met online who had served her alcohol. The woman's condition wasn't immediately reported. A Charlottesville Police spokesman didn't immediately return an Associated Press message seeking details. The paper says the university spokesman, Anthony de Bruyn, had no comment Wednesday night.