From Roanoke Police: On April 18, 2014 at 8:50 p.m. Roanoke Police were dispatched to the 1900 block of Franklin Road SW, the Ramada Inn, to investigate a report of shots fired. Upon arrival, officers located a victim, a 62-year-old white male from Roanoke. The victim suffered what appeared to be a non-life threatening gun shot wound and was transported to Carilion Roanoke Memorial Hospital for treatment. Officers attempted to locate a suspect but were unsuccessful. The victim told detectives he was walking along the greenway and noticed someone approximately 50 yards in front of him keep looking back in a paranoid state. On the greenway, in the area of the Ramada Inn, the victim stated the suspect turned and fired multiple shots.
From the Bedford County Sheriff's Office: Bedford County 911 dispatchers received a call Monday morning at 9:18 a.m. reporting a deceased male hiker on the Appalachian Trail. The caller, who was not hiking with the deceased, advised the body was located at Matts Creek's Shelter. Bedford County Fire and Rescue units along with Bedford County sheriff's deputies were dispatched to the scene. After arriving on the scene, deputies interviewed several hikers who said they talked to the victim late Sunday.
U.S. Senator Tim Kaine was in Roanoke this morning, meeting with women business leaders on issues that impact the economy. He also promoted higher education issues and workforce development.  WFIR's Gene Marrano spoke with Kaine:
CHARLOTTESVILLE, Va. (AP) _ A former University of Virginia associate dean has pleaded guilty to child pornography charges.  Michael G. Morris pleaded guilty Monday to two counts of distributing or receiving child pornography and one count of possessing child pornography. The 50-year-old Crozet resident entered his plea in U.S. District Court in Charlottesville.  Morris faces up to 20 years in prison on the distribution and receipt charges and up to 10 years in prison on the possession charge.

State lawmakers head back to Richmond this week for the veto session…but not to discuss the budget stalemate apparently. WFIR's Gene Marrano has more:
RICHMOND, Va. (AP) _ Gov. Terry McAuliffe is celebrating his administration's accomplishments during its first 100 days in office.  The Democratic governor gathered state agency heads at the Library of Virginia on Monday to enumerate improvements Virginia has made in the economy, transportation, health care, education and other areas.  McAuliffe says his administration has helped create more than 5,000 jobs since coming into office in January.
Researchers at Virginia Tech are looking into possible health benefits from compounds found in cocoa. The work has gotten a lot of attention, sometimes for the wrong reason. Andrew Neilson, assistant professor of food science and technology, says this should not be seen as an invitation to eat more chocolate. He says there are healthier ways to get the benefits of cocoa. The story from WFIR's Jim Kent:
Roanoke police continue to investigate a shooting on the Greenway that sent one person to the hospital with non-life threatening injuries. It happened just before 9:00 p.m. Friday, when a man pulled a gun on another man near the Ramada Inn on Franklin Road. Police are looking for a man, approximately 5-feet, 7-inches tall, wearing a gray hooded sweatshirt. There is no word on what led to the shooting or if the victim and suspect know each other. Officers patrolled the greenway over the weekend. Police have not said if that is just a normal increase for this time of year or if patrols have been stepped up because of the shooting.
You have ten days left to file your state income taxes.  Commissioners of the Revenue say a lot of the returns that come in have errors they can easily spot, and in many cases, the corrections work in favor of the taxpayer. WFIR's Evan Jones has the story.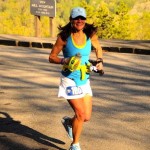 As runners line up for the Boston Marathon this morning – one year after the terrorist bombing at the finish line – a Franklin County runner will race for a fifth time. Pam Rickard had finished the Boston Marathon last April and was back in her hotel when the bombs went off. WFIR's Gene Marrano spoke with Rickard: