RICHMOND, Va. (AP) _ Virginia Gov. Terry McAuliffe's political action committee is returning a $25,000 donation from a company with ties to Angola's state-owned oil company. The PAC's director, Brian Zuzenak, said Tuesday the contribution is being returned because Houston-based Glinn USA Investments was unwilling to sign a letter acknowledging that the contribution was legal. A lawyer for Glinn USA says the company asked the PAC to return the contribution because the company's owners did not want to be involved in a political controversy. Federal law prohibits federal, state and local political campaigns from accepting money from outside the U.S. McAuliffe's decision to return the money comes after The Associated Press questioned the governor's PAC about the legality of the donation. Glinn USA has ties to Sonangol, the state-owned oil company of Angola.

There's been some controversy in recent years about the need to immunize children – and the right not to do that .. tomorrow evening a public town hall roundtable will bring the issue to light … more from WFIR's Gene Marrano:
Virginia families are coming together for some quality time to go fishing. WFIR's Luke Church has a report:

RICHMOND, Va. (AP) _ Virginia business leaders say the Old Dominion has an urgent need for a more diversified economy and say new state-funded incentives aimed at promoting regional cooperation would help. Business, university and government officials unveiled a new initiative called "Go Virginia" Tuesday at news conferences around the state. The plan calls for new state incentives to assist in regional collaboration, details of which will be unveiled in coming months. Go Virginia members stressed that there would be no need for new taxes to pay for the initiative. It would instead draw from existing sources of state funds. Among those spearheading the effort are Dominion Resources Inc. CEO Thomas Farrell II and former Landmark Communications chief executive John O. "Dubby" Wynne.
RICHMOND, Va. (AP) _ Virginia Gov. Terry McAuliffe is asking state lawmakers to meet in Richmond next week to hammer out a consensus on new congressional districts. The Democratic governor sent a letter to legislative leaders Tuesday asking them to work together in a nonpartisan and transparent way to redraw Virginia's congressional maps ahead of a court-ordered special session on redistricting set for Aug. 17. A 2-1 ruling in June by a panel of judges directed the General Assembly to draw new boundaries by Sept. 1 to correct a 2012 redistricting plan the court found used race as the predominant factor in drawing boundaries. State Republicans have asked that the special session be postponed while that decision is appealed.

RICHMOND, Va. (AP) _ The National Endowment for the Humanities has announced $2.9 million in grants for 13 projects in Virginia. The recipients include the Colonial Williamsburg Foundation, George Mason University, the Public Broadcasting Service, the University of Virginia, Virginia Commonwealth University and Virginia Tech. They are part of nearly $37 million in grants for 212 humanities projects nationwide. Among the projects the funding will support are traveling exhibitions, digital research tools, professional development opportunities for teachers and college faculty, cultural collection preservation and the production of films, television, and radio programs.

RICHMOND, Va. (AP) _ The Virginia residential real estate market saw its strongest second quarter since the 2008 recession, according to recent report. Multiple media outlets report that the Virginia Association of Realtors released a report Tuesday that said sales reached $10.6 billion, up 11 percent from the same period a year ago. The median price rose in six of seven regions, including central Virginia, where it ticked up 5.7 percent in the second quarter to $219,000 from a year ago. The report considers central Virginia to include Richmond, the Tri-Cities and 18 surrounding counties. There, overall sales numbers rose 13.9 percent from a year ago. The Hampton Roads/Chesapeake area reported the only decline in median sales price _ $202,000, down 5.4 percent from the year-ago period.

PULASKI, Va. (AP) _ Two Virginia State Police troopers are recovering from minor injuries suffered in a crash on Interstate 81 in Pulaski County. State police spokeswoman Corinne Geller says troopers R.W. Hughes and W.L. Stumbo III had responded in separate patrol vehicles to a disabled tractor-trailer on Tuesday morning. Geller says a pickup truck struck Stumbo's parked vehicle before hitting another car. Stumbo, who was in the patrol car at the time, was treated at a hospital and released. Hughes had been walking and was forced to leap over a guardrail to avoid being struck. Geller says Hughes was treated for minor injuries at the scene. The driver of the car was taken to a hospital for treatment of minor injuries. Geller says the pickup truck driver was charged with reckless driving.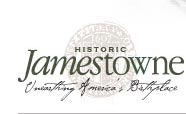 WASHINGTON (AP) _ Archaeologists have discovered the human remains of four of the earliest leaders of Jamestown, Virginia, the first permanent English settlement in America. Four burial sites were uncovered after more than 400 years. They were discovered in what's left of the floor of Jamestown's historic church. The site is the same church where Pocahontas famously married Englishman John Rolfe. The Jamestown Rediscovery archaeology team revealed their findings Tuesday at the Smithsonian's National Museum of Natural History. The museum helped study the burial sites to identify the remains. The team identified the remains of Rev. Robert Hunt, Jamestown's first Anglican minister; Capt. Gabriel Archer, a rival of John Smith; Sir Ferdinando Wainman, likely the first knight buried in America; and Capt. William West, who died in a fight with Powhatan Indians.