From Roanoke County Fire & Rescue: Roanoke County Fire & Rescue responded to a structure fire in the 4900 block of Fort Lewis Church Road at 6:30 this morning. First crews responding could see smoke showing as the left the Fort Lewis Station, and once on scene found a shed that was about 30′ by 30′ and completely engulfed in flames. Career and volunteer firefighters from the Fort Lewis and Masons Cove stations contained the flames to the shed but some of the vinyl siding on the house did melt. The occupant of the home reported being able to feel the extreme heat from the house when they first called 9-1-1. No injuries were reported. Cause of the fire is undetermined. Estimated damages to structure and contents are $10,000.
Flowers outside the WDBJ7 studios, and inside, on-air remembrances today — one year after Reporter Alison Parker and Photojournalist Adam Ward were fatally shot during a live broadcast from Smith Mountain Lake. WFIR's Evan Jones has more:

RICHMOND, Va. (AP) – Gov. Terry McAuliffe is warning Virginia lawmakers to brace for "tough decisions ahead" to address a roughly $1.5 billion budget shortfall. The Democratic governor told the General Assembly's money committees Friday that budget woes are being driven by lower income and sales tax revenue collections than anticipated. The projected shortfall for the current-two year budget is $1.2 billion. That's in addition to shortfall of about $280 million carried over from the budget year that ended June 30. McAuliffe said the state will fill some of the gap in the current fiscal first year with about $125 million that was supposed to cover raises for state employees, teachers and other state-supported workers. He proposed using another roughly $378 million from the state's rainy-day fund; lawmakers would have to approve that.

Deschutes Brewery and local craft beer makers including Soaring Ridge and Parkway Brewing will pour for a good cause tomorrow afternoon. More from WFIR's Gene Marrano

An event in downtown Roanoke tomorrow tonight is designed to be a place for locals to gather and share positive stories, songs and poems about diversity. WFIR's Starr Anderson has more details about Soul Momentum.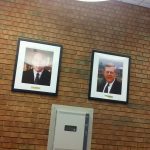 As part of its 50th anniversary celebration Virginia Western Community College unveiled photo portraits of the four presidents that have been at the helm since it became the state's first community college. Current president Dr. Bobby Sandel spoke before the unveiling this morning. Also on hand outside the Whitman Theater was Charles Downs, who ran the school for 20 years before Sandel came aboard in 2001. Sandel also mentioned a 60 million dollar expansion plan that will start this fall

Roanoke County fire officials say a lawn mower brought into a garage just after use sparked a costly fire earlier this week, and officials say it serves as a good example to let your lawn mower cool down before bringing it in. WFIR's Evan Jones has the story.

Both Democrat Hillary Clinton and Republican Donald Trump have run into some "image" issues with the Presidential election less than three months away. WFIR's Gene Marrano spoke with a local political communication expert:

RICHMOND, Va. (AP) _ Gov. Terry McAuliffe is set to update Virginia lawmakers on the state budget. The Democratic governor will address a joint session of the House and Senate money committees at the Capitol on Friday. McAuliffe's budget update comes nearly two months after his administration said that it would have to hold off on giving planned raises to state employees and others because the state ended last fiscal year in June with roughly $266 million less revenue than expected. McAuliffe's administration said that total general fund revenues grew just 1.7 percent over the fiscal year, which was far short of the 3.2 percent that officials had projected.

ROANOKE, Va. (AP) _ A Virginia television station is marking a year since two journalists were fatally shot during a live broadcast watched by thousands of viewers. The Roanoke Times reports the television station, WDBJ-TV in Roanoke, plans a moment of silence during Friday's "Mornin" newscast. Friday marks one year since 24-year-old Alison Parker and 27-year-old Adam Ward were killed. Parker was a reporter and Ward a cameraman. They were killed by a former co-worker who later turned the weapon on himself.