From Roanoke County Fire and Rescue: Fire investigators have determined that unattended cooking sparked the blaze in the 500 block of Polk Avenue last night in Vinton. Crews from the Vinton station, along with firefighters from Read Mountain and Mount Pleasant stations, arrived promptly and had the fire under control in about 10 minutes. A mother and her juvenile daughter were home at the time of the fire and escaped without injury. One dog escaped the blaze, but sadly another dog died inside the home. The family is displaced and the Red Cross is offering assistance. The fire caused $65,000 in damages.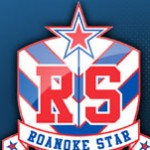 The TV ratings have been strong nationally when the U.S. Women's soccer team has competed in this year's World Cup – and locally that impressive showing has encouraged more girls to take up the sport … WFIR's Gene Marrano has the story:
Many people have already hit the road for the July 4th weekend … others will today … the president and CEO of a trucking trade group in Virginia wants motorists to stay safe … more from WFIR's Gene Marrano:

A Floyd County man received a Purple Heart, Bronze Star and other medals for his military service — 70 years later. Erbie Huff was wounded in action on Okinawa in June of 1945. He earned several medals but never received them until Congressman Morgan Griffith presented them this week.  WFIR's Evan Jones has the story.

NORFOLK, Va. (AP) _ The Department of Interior has granted federal recognition to the Pamunkey Indian Tribe, the first in Virginia to receive the designation. The designation allows federal spending on medical care, housing and education. It also could lead to the tribe seeking a casino through a separate approval process, although the Pamunkey have say they have no plans to do so. Still, the tribe's application was opposed by MGM Resorts, which is building a casino at the National Harbor outside the nation's capital in Maryland. Several members of the Congressional Black Caucus also opposed recognition, saying the tribe had a history of banning interracial marriages with blacks. The tribe's 200-acre rural reservation is about 25 miles east of Richmond. It has about 200 members.

SWEET BRIAR, Va. (AP) _ Sweet Briar College has a new president and a new board of directors. The changing of the guard occurred Thursday under terms of a mediated settlement to keep open the small liberal arts college that was scheduled to close in late August. In a statement issued by Saving Sweet Briar, the college's new president, Phillip Stone, said the "tremendously fierce commitment" of the school's alumnae had not been tapped when they were needed most. He also said it is not his intention to keep the school running for just one more academic year, adding that the aim is to keep Sweet Briar open for another 114 years. In early May, the now former leadership of the women's college said Sweet Briar would have to close because of insurmountable financial challenges.
WASHINGTON (AP) — Former Virginia Sen. Jim Webb is running for president, joining a field of Democrats challenging Hillary Rodham Clinton for the nomination. Webb says in a message on his website that the nation "needs a fresh approach to solving the problems that confront us." Webb was the first Democrat to form an exploratory committee, announcing his interest in a presidential campaign last November. A Vietnam veteran and former Navy secretary under President Ronald Reagan, Webb was elected to the Senate in 2006 and served one term.Webb has made frequent trips to the early voting states of Iowa and New Hampshire. But he faces long odds in a field dominated by Clinton that also includes Vermont Sen. Bernie Sanders, former Maryland Gov. Martin O'Malley and former Rhode Island Gov. Lincoln Chafee.

RICHMOND, Va. (AP) _ A man must perform 100 hours of community service after pleading guilty to defacing a Confederate monument in Richmond. Media outlets report that 39-year-old Joseph Weindl of Richmond pleaded guilty on Thursday to defacing a public monument. A Richmond General District Court judge suspended a 90-day jail sentence and ordered community service. Weindl also must pay $200 in restitution. Police say Weindl spray-painted an "L" on the base of a monument honoring Confederate President Jefferson Davis on June 28. Weindl's attorney, Daniel Watkins, said earlier this week that his client regrets the action.  Confederate symbols have been the focus of debate since the June 17 massacre at an African-American church in Charleston, South Carolina. The accused gunman had posed in photographs with the Confederate battle flag.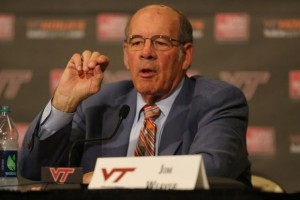 (from VT News) Jim Weaver, whose vision and leadership as the director of athletics catapulted Virginia Tech in the Big East Conference and later the Atlantic Coast Conference, passed away at his Blacksburg home Wednesday night at the age of 70.
Weaver served as the director of athletics at Virginia Tech for more than 16 years from 1997-2013 before announcing in November of 2013 that he was retiring at the end of the calendar year because of health reasons. In 2004, Weaver had been diagnosed with Parkinson's disease. His decision to retire ended a career as an athletics administrator that spanned more than three decades.
"Jim Weaver made a tremendous impact upon our institution, and we are deeply saddened to hear of his passing," Virginia Tech President Timothy D. Sands said. "He was dedicated to making our athletics enterprise among the best in the country, while always being true to the principles and values of this university. We will always be inspired by his legacy." Weaver's biggest impact at Virginia Tech came in his emphasis on facilities. The department committed nearly $200 million toward facilities during his time as the athletics director. His ability to get the department on solid financial footing, his emphasis on facilities and his strong oversight in the areas of NCAA compliance set the groundwork for the school's invitation into the ACC for all sports starting in 2004.

It's not the first forward-looking study designed to figure out how to retain residents and attract visitors … but the Roanoke Valley Convention and Visitor's Bureau says Destination Vision 20-30 will be different … WFIR's Gene Marrano has that story: