VDOT officials says once all the bills are in, they expect their snow removal spending this winter to total $350 million dollars, well over twice what was budgeted. As a result, VDOT is cutting back on some other maintenance spending and re-allocating $65 million in federal construction funds. WFIR's Evan Jones has the story.
Click here for the full VDOT news release. It includes a list of all Salem District construction projects included in the plan.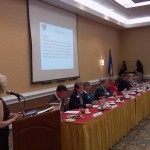 A lunchtime forum for Roanoke's ten City Council candidates at the Sheraton Hotel today marks the third time they will get together this week. Three seats are being contested in the May 6th election. WFIR's Gene Marrano reports:
CHRISTIANSBURG, Va. (AP) _ A man accused of shooting and wounding two women at a community college inside a Christiansburg mall has pleaded guilty to four felony charges. Neil Allan MacInnis, 19, of Christiansburg, pleaded guilty Wednesday to two counts of aggravated malicious wounding and two counts of using a firearm in a felony. Sentencing is set for July 10 in Montgomery County Circuit Court. Police have said the women were in the lobby when a gunman entered a satellite campus of New River Community College in the New River Valley Mall on April 12, 2013. The suspect was subdued by an off-duty security guard and Christiansburg police. MacInnis has been held without bond at the Western Virginia Regional Jail.
 RICHMOND, Va. (AP) _ Virginia Tech has paid federal fines for its actions on the morning of April 16, 2007, when a lone gunman killed 32 people on the school's campus.  The U.S. Department of Education said Wednesday the university has paid two fines totaling $32,500 for violations of the Clery Act, which requires universities to issue timely warnings of campus threats.
Once you complete "America's Toughest Road Marathon," as the Blue Ridge Marathon in Roanoke is promoted, most races afterwards will be a piece of cake. That's the message from guest of honor Zoe Romano. WFIR's Gene Marrano reports:
Republican leaders in Richmond call it blinding hypocrisy, accusing Democrats who opposed federal government shutdown threats last fall of an obvious about-face in threatening a state government shutdown come July. They have asked Democratic U.S. Senator Mark Warner to support their position and call for an end to state budget shutdown threats. WFIR's Evan Jones has the story.
Roanoke City Councilman Sherman Lea spent 32 years working for the Virginia Department of Corrections. Now he has been appointed to the Virginia Parole Board by Gov. Terry McAuliffe. WFIR's Gene Marrano has more:

Two subjects have been targeting Kroger, Food Lion, and Wal-Mart in multiple jurisdictions.  They are using stolen card numbers to buy gift cards and other items.  They may be driving a white Dodge Charger or a Toyota truck. Please contact Roanoke County Police Officer Torzewski at 540-777-8662 if you have any information about the two subjects.

 RICHMOND, Va. (AP) _ House Republicans say they remain resolute in their opposition to using federal Medicaid funds to provide health insurance to as many as 400,000 low-income Virginians.  During a conference call with reporters Tuesday, House Speaker William J. Howell said he is optimistic that Gov. Terry McAuliffe and Democratic lawmakers would back down from their support of a proposed state budget that includes expanding Medicaid eligibility. State services could shutter if a state budget isn't passed by July 1.  House Republicans also sent a letter to Democratic U.S. Sen. Mark Warner asking him to support their position. Last year, Warner condemned national Republicans who forced a federal government shutdown over a failed effort to defund the Affordable Care Act. Howell said McAuliffe is using similar tactics in the Virginia Medicaid expansion debate.

Animal lovers have several chances in the next few weeks to enjoy events at Mill Mountain Zoo. WFIR's Gene Marrano has more: