Roanoke County Police are asking for the public's help in locating a wanted subject. Police are attempting to locate Dwight Earnest Harmon (see photo below). Harmon is a white male, approximately 5'7'' and 61 years of age. He has gray hair and blue eyes. Harmon has outstanding warrants for his arrest for the charge of burglary and grand larceny in Roanoke County. Harmon is believed to be driving a red 2008 Kia Rio bearing the VA license plate of VBX 7821. Anyone with information about this is asked to contact Detective Finney with the Roanoke County Police Department at 777-5269 or call the Emergency Communication Center at 562-3266.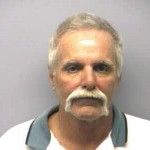 AAA Mid-Atlantic says the Thanksgiving holiday travel period will be a busy time for them, with about 1.2 million Virginians expected to take a road trip. WFIR's Starr Anderson has more details: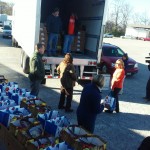 Thanksgiving dinner for 200 needy families in the valley is a sure thing thanks to Kroger and Feeding America Southwest Virginia –  as WFIR's Gene Marrano reports:
UPDATED 1:00 pm — From Roanoke County Public Schools: An update to the situation at Hidden Valley High School and nearby schools …  Police have concluded their investigation of the report made this morning regarding suspicious individuals near the HVHS campus.  No further leads or sightings were reported. Hidden Valley High School will dismiss as normal with an elevated police presence.  All after-school activities will proceed as scheduled.  Tomorrow morning, there will be an elevated police presence at Hidden Valley High School, as a precaution. Cave Spring Elementary and Cave Spring Middle schools continue normal operations and will dismiss as normal.  All after-school activities for both schools will proceed as scheduled.  We would to thank the Roanoke County Police Department for their prompt response and investigation.
Roanoke City Councilman Court Rosen is also an appointed member of the Commonwealth Transportation Board – controlling the purse strings on transportation funding. A former State Senate candidate thinks Rosen needs to go.  WFIR's Gene Marrano reports:

More than 20 organizations are calling on federal regulators to conduct a "cultural attachment" review of the proposed natural gas pipelines that would cross Virginia — including the Mountain Valley Pipeline in our region. More from WFIR's Evan Jones.

RICHMOND, Va. (AP) _ Starting Wednesday, Virginia State Police will be out in force as highway traffic swells for the start of the long Thanksgiving holiday. Spokeswoman Corinne Geller says the increased patrols will continue through Sunday night. Col. Steven Flaherty is superintendent of the state police. He says the aim of the beefed up patrols is to stress safe driving and to counter aggressive or impaired driving. One year ago, eight people were killed in crashes over the Thanksgiving weekend. But so far this year, fatal crashes are up. Since Jan. 1, 652 people have died in traffic crashes. That's up from 633 recorded over the same period in 2014.

Roanoke College is expanding opportunities for international students through a new partnership with LCI Language Centers. An LCI English language school is now open on the Roanoke College campus, with the first full term for international students scheduled to begin in January 2016. LCI English schools provide students from all over the world with the language skills and cultural experience needed to succeed at U.S. colleges and universities. Local community members interested in improving their English are also welcome since LCI Roanoke English programs are also open to non-Roanoke College students.

Salem City Councilwoman, Lisa Garst, handed in her resignation letter yesterday evening during a closed session portion of the council's regularly scheduled meeting at City Hall. Garst, who was first elected to the city's governing body in 2008, will officially step down from her post on December 15, 2015 to take over as the Director for a Livable Roanoke Valley. According to the city she has been instrumental in promoting various stages of greenway construction, establishing the Salem Rotary Dog Park, recognizing green initiatives in the city and forming the Salem Fresh Ideas Garden. In 2011, she received the DePaul Woman of Achievement in Government Award. Garst's current term on City Council was set to expire in the summer of 2016. Originally, she had hoped to stay on council while beginning her new job with Livable Roanoke Valley, but she elected to step down to avoid any possible conflict of interest between the two positions.

From Virginia State Police: Virginia State Police Trooper K.W. Spencer is investigating a two-vehicle crash in Giles County. The crash occurred Nov. 23, 2015, at 9:45 a.m., at the intersection of Route 460 and Route 1308. A 1998 Ford Contour was making a left turn from Route 460 east onto Route 1308, when it pulled into the path of a 1998 Ford Escort. The Escort was traveling west on Route 460 and was unable to avoid the turning vehicle in its path.  The two vehicles collided in the westbound lanes. The driver of the Contour, Mildred E. Bostic, 76, of Union, W.Va., was transported to Giles Community Hospital where she died later Monday morning. Bostic was wearing a seat belt. The driver of the Escape, Rex A. Gardner, 61, of Elliston, Va., was not injured in the crash. He was wearing  seat belt. The cause of the crash remains under investigation.