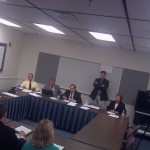 With "very little likelihood" of membership in ICLEI surviving the next budget vote, Roanoke County supervisors advised the RC CLEAR environmental citizens committee to look at other options during a work session yesterday (see photo). WFIR's Gene Marrano was there:

NORFOLK, Va (AP) _  Norfolk Southern Corp.'s first-quarter profit fell 18 percent as severe winter weather slowed shipments and the railroad delivered 1 percent less freight overall.The Norfolk, Virginia, based railroad said Wednesday it earned $368 million, or $1.17 per share, during the January-March period. That's down from $450 million, or $1.41 per share, a year ago.  "Following the extreme winter weather across the U.S. rail network which impacted first-quarter results, we are seeing a rebound in shipments across all of our business," Norfolk Southern CEO Wick Moorman wrote in a statement. "Our people responded admirably to meet the challenges of the harsh conditions, and we remain focused on delivering superior service to our customers."  Declines in automotive, construction and forest product shipments offset increases in crude oil and liquefied petroleum gas shipments.

 RICHMOND, Va. (AP) _ Virginia lawmakers are returning to Richmond to consider Gov. Terry McAuliffe's changes to the General Assembly's 2014 legislation.  Legislators will consider McAuliffe's vetoes and proposed changes to several dozen pieces of legislation during a one-day session Wednesday.  McAuliffe has vetoed two bills concerning religious expression. One would have codified a student's right to pray at school. The other would have prohibited censorship of sermons made by chaplains of the Virginia National Guard.  The governor also vetoed a bill that would give people who receive red-light tickets the right to contest citations in circuit court. That bill passed the House 99-0 and the Senate 38-1.  The General Assembly won't take up the state's budget. Republicans and Democrats remained deadlocked on whether the budget should include expanding Medicaid eligibility.

CHARLOTTESVILLE, Va. (AP) _ The Virginia Department of Forestry has issued a fire weather watch for the entire state. The advisory issued Wednesday signals an increased threat of wildfires. Forestry officials say the watch has been issued because of predictions of low humidity and high winds, among other factors.
They all add up to an increased wildfire danger.
If those conditions linger, the watch could be upgraded to a red flag warning. The National Weather Service already has issued red flag warning for some areas, including much of southwestern Virginia. That is issued when conditions are ideal for wilderness fires to start easily and spread rapidly.

Roanoke County Supervisors appear ready to limit how much time any one of them can speak on any single topic at any one meeting to 20 minutes. A proposed set of changes that includes that limit received first approval yesterday 3-2. The two "no" votes came from supervisors who believe the proposal is an attempt to stifle a minority.  WFIR's Evan Jones has the story.

There was some push back at a Salem City Council candidates forum yesterday…on issues of party affiliation and spending. WFIR's Gene Marrano was there:

From the Roanoke-Blacksburg Regional Airport – Airport Commission chair, Cynthia Lawrence, announced that Roanoke‐Blacksburg Regional Airport Executive Director Jacqueline Shuck has informed the members of the Airport Commission of her desire to retire at the end of 2014. Shuck, who is the first and only airport director to serve under the Airport Commission which was formed in 1987, has worked in this capacity for 25 years, following more than five years in a similar position in Cleveland, Ohio. During her tenure, ROA's first low cost carrier, Allegiant Air, began service, regional jets became commonplace, and the airport saw the construction of a new air traffic control tower, a completely rehabilitated airfield, numerous infrastructure projects and most recently the renovation of the airport terminal which was newly opened the week before she began her employment with the Commission. Shuck has indicated that she will remain on the job while the Commission conducts a nationwide search to find the most qualified candidate to fill this position.
From the Bedford County Sheriff's Office: Investigators have identified the deceased hiker found at the Matt Creek Shelter yesterday morning as Rodney Montgomery, age 59, Otis Orchard, Washington. Investigators contacted a brother in Washington late yesterday. The brother advised that he had two brothers hiking together on the Appalachian Trial. Investigators contacted the second brother, by cell phone, and learned he was in Troutville. He told investigators that they were hiking to Georgia and last week his brother not sick. The two of them stayed at the Matt Creek Shelter for a couple of days. On Friday, April 18, 2014, he left his brother and they agreed to meet in Troutville to continue their trip. Investigators have spoken to several hikers, who all corroborate the facts.
(Continue reading for the initial sheriff's office news release.)

From the Franklin County Sheriff's Office:  Franklin County, VA — On April 21, 2014 at 11:46 AM the Office of the Sheriff received a 911 call in reference to a shooting on Double Oaks Lane in the Burnt Chimney community of Franklin County. Deputies arrived on the scene a few minutes later and found a seven year old male, with a gunshot wound, lying on the floor of the residence. The juvenile was later pronounced dead at the scene.
Update: The preliminary investigation indicates that the seven year old was playing at a neighbor's residence with his twelve year old brother. The twelve year old found a handgun and accidentally discharged the firearm, striking and instantly killing the seven year old.  The investigation is ongoing and no charges have been filed at this time. Our thoughts and prayers go out to the families involved in this time of tragedy.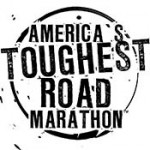 Expect tighter security at the Blue Ridge Marathon in Roanoke on Saturday. WFIR's Gene Marrano reports: