UPDATE:  Roanoke County police reported this was all clear at 7:56 a.m.  All roads were open.  The bomb threat remains under investigation.
——
Roanoke County Police are currently responding to a report of a bomb threat at the CVS at the corner of Williamson and Plantation Roads. The call came in at 6:25 a.m. It has affected traffic on Williamson Road from Plantation Road south to Dent Road.
Roads closed at this time:
Williamson at Plantation
Williamson at Lamar Dr
Williamson at Sunnybrook
Plantation at Boxley
Plantation at Honey Tree Learning Center

Spending time with your toddler at home? Then turn off the television in the background … a Hollins professor says her study shows that noise can affect their language development. WFIR's Gene Marrano explains:
The ACLU is advising Virginia corrections officials to ignore federal detainer notices from Immigration and Customs Enforcement, saying they can result in unjustified imprisonment. Those detainers ask jailers to keep a person in custody for 48 hours beyond the time they would otherwise be released because ICE believes their legal status in the US may be in question. As WFIR's Evan Jones reports, Roanoke area jail officials say they will honor ICE warrants, but not these detainer requests.
From Roanoke City Police: On August 27, 2014 at 10 p.m. Roanoke Police were dispatched to a disorder call in the 2000 block of Mountain View Terrace SW.  While responding to the call, officers were advised that the call had been upgraded to a gunshot wound.  Officers found the victim, a 38-year-old man from Roanoke, on the sidewalk with what appeared to be a single gunshot wound.  The victim was transported to Carilion Roanoke Memorial Hospital with a non-life threatening injury.  Several witnesses provided officers with a suspect description. Responding officers located an individual nearby matching the description of the suspect in the shooting. He was positively identified by witnesses, arrested, and subsequently interviewed.  The weapon suspected to have been used in the shooting was recovered. The suspect was identified as Marquis Deshay Staples, age 19, of Roanoke. After further investigation officers charged Staples with malicious wounding and use of a firearm in commission of a felony.  He was taken to Roanoke City Jail.
On August 28, 2014, Roanoke police arrested Christopher Trevon Spencer, age 22, of Roanoke, and Devan Rashawn Blake, age 18, of Roanoke on charges of robbery.  Spencer was charged with two counts of robbery. These charges are related to the robbery of a pizza delivery driver in the 1500 block of Bluemont Avenue SW on July 16th and a separate robbery of a food delivery driver on August 20th in the same block of Bluemont Avenue. Blake was charged with one count of robbery related to the pizza delivery driver incident on July 16th. Both men were taken to the Roanoke City Jail.
RICHMOND, Va. (AP) _ Testimony has wrapped up in the public corruption trial of former Virginia Gov. Bob McDonnell and his wife, Maureen. Closing arguments are set for Friday morning. The last witness Thursday was an FBI agent who testified that the McDonnells were together 90 percent of the nights during the 22 months that were the focus of the investigation. The testimony is intended to undercut a defense claim that the McDonnells' marriage was so fractured they couldn't have engaged in a conspiracy. The McDonnells are charged with taking more than $165,000 in gifts and loans from former Star Scientific Inc. CEO Jonnie Williams in exchange for promoting his company's dietary supplements.  Williams testified under immunity that he spent lavishly on the McDonnells only to secure their help. McDonnell denied criminal wrongdoing.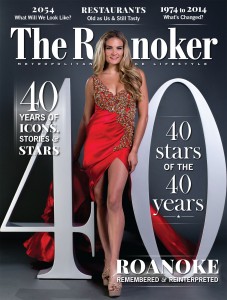 The Roanoker" magazine is 40 years old … its latest semi-monthly issue, on newsstands today, offers a retrospective on the valley. The 40th anniversary issue includes features on movers-and-shakers. WFIR's Gene Marrano has more:
Click here for Gene Marrano's extended conversation with Roanoker magazine editor-in-chief Kurt Rheinheimer:

It could be the start of a trend … the Virginia Tech-Carilion School of Medicine and Carilion Clinic have both added a department of orthopaedic surgery – and will share the resources. WFIR's Gene Marrano has more:

A young bald eagle that looked barely alive earlier this month will be returned to the wild later today. Workers at a landfill in Dublin found the eagle yearling about two weeks ago, and after rehabilitation at a wildlife hospital, the eagle looks good to go and will be released at Claytor Lake State Park. WFIR's Evan Jones has the story.
Click here for full information on this eagle's recovery and return.
Gun violence prevention advocates gathered in downtown Roanoke this afternoon, urging Congressman Bob Goodlatte and State Senator John Edwards to support more extensive background checks before someone is able to buy a firearm. Delegate Sam Rasoul was on hand as well … he spoke with WFIR's Gene Marrano: