FAIRFAX, Va. (AP) _ A man charged with the abduction of a University of Virginia student has been indicted in suburban Washington, D.C., with a 2005 rape, abduction and attempted capital murder.   The indictment against Jesse L. Matthew Jr. was handed up Monday by a Circuit Court grand jury in Fairfax County. Matthew is being held in Charlottesville, Virginia, on a charged related to the Sept. 13 abduction of Hannah Graham, an 18-year-old from northern Virginia.  Law enforcement officials who have been searching for Graham found human remains over the weekend. The state medical examiner has not made a positive identification.
Another 5-K race this weekend will support a local non-profit that provides educational programs … this one is a bit "spooky. " The West End Center for Youth will holds its 4th annual "Spooky Sprint 5K," at Wasena Park this Saturday. WFIR's Gene Marrano has more:
Update: Mon., 10/20/14 4:03 a.m.
CHARLOTTESVILLE, Va. (AP) _ Police blocked off roads and were searching for clues in an area where they found remains that could be missing University of Virginia student Hannah Graham. The 18-year-old Graham hasn't been seen since Sept. 13 after a night out with friends. The remains were found Saturday about 12 miles from campus. The man Graham was last seen with, 32-year-old Jesse Leroy Matthew Jr., has been charged with abduction with intent to defile Graham. He's being held in the Albemarle-Charlottesville Regional Jail. A preliminary hearing is set for Dec. 4. It's not clear how long it will take authorities to identify the remains they discovered over the weekend.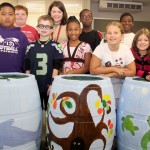 Roanoke City's new stormwater manager wants more residents to save money on their monthly utility fee … and some local elementary school students are showing how … City residents who collect rain runoff from their gutters can save ten percent on that utility fee.  WFIR's Gene Marrano has more:
The debate over  a new natural gas pipeline is likely to intensify in Roanoke County now that the Bent Mountain area is in the Mountain Valley Pipeline's proposed path. The industry says pipelines are the safest way to transport energy sources, but opponents say they can be disruptive to homeowners and the environment. WFIR's Evan Jones has more on the debate.

RICHMOND, Va. (AP) _ A new report says support staff salaries at three public higher education institutions in Virginia exceed the average of similar schools nationally. According to the report, the average salaries of upper- and mid-level support staff at most public higher education institutions were near or below the average of their peers nationally. Average salaries at the University of Virginia, Virginia Military Institute and Virginia Tech topped the average of similar schools nationally. The report says the primary reasons for the higher-than-average salaries appeared to be the base salaries of top executives, senior institutional officers and academic and associate deans. Virginia Tech, U.Va. and VMI tell the Richmond Times-Dispatch (http://bit.ly/1sYNlwB) that the report's conclusion is based on faulty peer groups. The Joint Legislative Audit and Review Commission released the report last week.

ROANOKE, Va. (AP) _ Police are investigating the cause of a ceiling collapse that killed a Roanoke County woman. County spokeswoman Amy Whittaker tells The Roanoke Times (http://bit.ly/1CGs2Rw) that part of the living room ceiling collapsed on 68-year-old Helen Arthur Craig in her home in southwest Roanoke County. Craig died at the scene. Whittaker says Craig's husband was able to crawl out after the ceiling fell and get help. He didn't require hospitalization. The accident occurred Friday afternoon.
BLACKSBURG, Va. (AP) — Virginia Tech President Timothy Sands wants to double the school's $800 million endowment and make the university one of the top 100 world research institutions. The Roanoke Times reports Sands made the comments Friday at his official installation, four months after taking the job. Sands also wants to make a Virginia Tech degree affordable for any Virginia student who can qualify for admission. The comments come as Virginia grapples with a $2.4 billion budget shortfall that has already led to $45 million in cuts to higher education. Sands is the school's first president since James McComas to have no previous ties to Virginia Tech. He has spent much of his time in office meeting with students, faculty, staff and state and local leaders to listen to their concerns.
RICHMOND, Va. (AP) — Senate candidate Ed Gillespie is behind in the polls and campaign cash with little more than two weeks before Election Day in Virginia. But the former high-powered Washington political operative says he's enjoying his underdog campaign and feels that momentum is in his favor. The Republican Gillespie is trying to unseat Democratic incumbent Sen. Mark Warner, a popular former governor seeking a second term. Gillespie says the media and pundits are missing what's happening on the ground, and that people unhappy with President Barack Obama's energy, health care and tax policies — and Warner's support for them — will help Gillespie win in November.
RICHMOND, Va. (AP) — Virginia Gov. Terry McAuliffe is embarking on his second international trade trip with scheduled stops in Japan, China and South Korea. McAuliffe's office announced Friday that McAuliffe would attend a welcome dinner Sunday hosted by Caroline Bouvier Kennedy, the U.S. ambassador to Japan. Other planned stops on the week-and-a-half-long trip include a University of Virginia alumni breakfast in Japan, a Virginia wine event in China, and meetings with the president and prime minister of South Korea. McAuliffe went to China and England in July and has made luring international businesses to locate Virginia one of his top priorities.