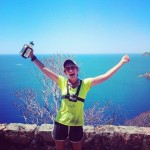 Once you complete "America's Toughest Road Marathon," as the Blue Ridge Marathon in Roanoke is promoted, most races afterwards will be a piece of cake. That's the message from guest of honor Zoe Romano. WFIR's Gene Marrano reports:
Republican leaders in Richmond call it blinding hypocrisy, accusing Democrats who opposed federal government shutdown threats last fall of an obvious about-face in threatening a state government shutdown come July. They have asked Democratic U.S. Senator Mark Warner to support their position and call for an end to state budget shutdown threats. WFIR's Evan Jones has the story.
Roanoke City Councilman Sherman Lea spent 32 years working for the Virginia Department of Corrections. Now he has been appointed to the Virginia Parole Board by Gov. Terry McAuliffe. WFIR's Gene Marrano has more:

Two subjects have been targeting Kroger, Food Lion, and Wal-Mart in multiple jurisdictions.  They are using stolen card numbers to buy gift cards and other items.  They may be driving a white Dodge Charger or a Toyota truck. Please contact Roanoke County Police Officer Torzewski at 540-777-8662 if you have any information about the two subjects.

 RICHMOND, Va. (AP) _ House Republicans say they remain resolute in their opposition to using federal Medicaid funds to provide health insurance to as many as 400,000 low-income Virginians.  During a conference call with reporters Tuesday, House Speaker William J. Howell said he is optimistic that Gov. Terry McAuliffe and Democratic lawmakers would back down from their support of a proposed state budget that includes expanding Medicaid eligibility. State services could shutter if a state budget isn't passed by July 1.  House Republicans also sent a letter to Democratic U.S. Sen. Mark Warner asking him to support their position. Last year, Warner condemned national Republicans who forced a federal government shutdown over a failed effort to defund the Affordable Care Act. Howell said McAuliffe is using similar tactics in the Virginia Medicaid expansion debate.

Animal lovers have several chances in the next few weeks to enjoy events at Mill Mountain Zoo. WFIR's Gene Marrano has more:

Virginia gas prices are pretty much where they were a year ago on average, and for the year so far, they're almost 24 cents a gallon lower. Experts say its mostly the result of a domestic oil boom, and still lower pump prices may follow. WFIR's Evan Jones has the story.

The Roanoke Valley's blend of outdoor amenities and amateur sports tournaments helps bring in over $700-million from tourists to the Blue Ridge region every year. The economic impact of sports and the outdoors is the subject of a breakfast forum tomorrow. WFIR's Gene Marrano explains:

The Virginia Museum of Transportation is preparing to begin restoration of Norfolk and Western 611 next month, and as it does, another rail museum with similar experience advises to expect plenty of surprises.  The Tennessee Valley Railroad Museum in Chattanooga says you never know exactly what you will encounter until the process gets going.  WFIR's Evan Jones has the story.
The Medicaid expansion debate in Virginia has the attention of some of the largest insurance companies in the country…no matter the outcome. WFIR's Velvet Hall has more: