Vinton Mayor Brad Grose will speak on the State of the Town this morning. With a new Roanoke County Library  branch going up by 2015, a federal grant for downtown improvements, and an uptick in sales tax revenue, the long-time mayor says things are looking up. WFIR's Gene Marrano has the story.
Six police departments including Rocky Mount Police are in line to get bulletproof vests for members that don't have them. It is part of funds from a $1.5 billion Medicare fraud settlement with Abbott Laboratories. WFIR's Bob Clark has the story.

Appalachian Power company workers are busy restoring power to homes, work resulting from the ice storm of the past 24 hours. With the help of crews from elsewhere, Apco expects to be able to complete their job fairly quickly. WFIR's Bob Clark has the story.

Sleet and freezing rain will make driving hazardous, especially on bridges and overpasses. The National Weather Service says ice buildups on trees and power lines may cause widespread power outages.
Roads/Highways
VDOT reports no major incidents as of 8:30 am. Most roads and highways are listed in "minor" condition, which means they are generally wet but may have some slick spots. Click here for the latest VDOT traffic information.
Airport
As of 8:30 am, Roanoke Regional Airport reported 1 canceled flight and 1 delayed flight. If you have flight plans, you are urged to check with your airline before heading out. Click here for the latest airport information.
Appalachian Power
As 8:35  am, Appalachian Power reports about 7,371 power outages. Click here for the latest Apco information.
Schools
Several schools closed for the day or delayed.
Click here for the latest information.
A R
oanoke Police lieutenant is scheduled to join a White House Drug Control Policy meeting later this morning and talk about the Roanoke Police Drug Market Initiative, often called DMI. It's a program to involve neighborhood residents in stopping drug dealing around their homes and give offenders without violent records a choice: education and job training or jail. WFIR's Evan Jones has the story.
The holiday season brings family members together and the Alzheimer's Association says to be on the lookout for early signs of dementia. Some of the signs to be aware of include forgetting dates and appointments, having a challenge handling legal and financial matters and asking for the same information over and over. WFIR's Bob Clark has the story.
Virginia Tech has named its next president, and he comes to Blacksburg from Purdue University.  Timothy Sands has been Executive Vice President for Academic Affairs and Provost of Purdue. He succeeds Charles Steger, who announced last May he would step down when a successor was chosen. Steger has been Virginia Tech's president since 2000. Before taking administrative positions, Sands was an engineering professor at Cal-Berkeley and at Purdue. As WFIR's Evan Jones, Sands promises to "keep the momentum moving" in Blacksburg.

An ice storm is forecast for the immediate area this Sunday, and the Virginia Department of Forestry reminds homeowners to inspect their property for tree limbs that ice could bring down. John Campbell with the Forestry Department recommends using an Certified Arborist to make sure the job is done right. WFIR's Bob Clark has the story.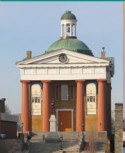 The Lynchburg Museum will feature a special display tonight to highlight the involvement of women in World Two. The program is schedule tonight as part of "First Friday" from 5:00  to 8:00 pm. The event at the Lynchburg Museum is free tonight. WFIR's Bob Clark has the story.
The Regional Center for Animal Control and Protection tried something new last weekend, and it led to a spike in adoption numbers.  It's normally closed Sundays, but the center held a special adoption event last Sunday, and that led to 33 pet adoptions in a four day period — way above normal. WFIR's Evan Jones has the story.