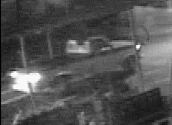 Roanoke police are still looking for the pickup truck and driver connected to a hit and run that sent a woman to the hospital Tuesday night. Police say the woman was hit as she walked near the 2200 block of Melrose Avenue, near Orange Avenue, shortly before 9:00 p.m. The Roanoke Police Department on Wednesday released a photo of a suspect vehicle that may have been involved in the hit and run.
Police are releasing little information about a shooting that happened Sunday night in northeast Roanoke, leaving one dead and sending two to the hospital. WFIR's Velvet Hall has more…

A lengthy standoff is over without incident after a 47 year old man holed himself up in his northeast Roanoke County home. WFIR's Velvet Hall has more…
After a busy Sunday morning, Roanoke police still are investigating two shootings that happened within a 45 minute span in the northwest part of the city. WFIR's Velvet Hall has more…

ConAgra Foods has voluntarily recalled a limited number of packages of its Andy Capp's Hot Fries flavor product. They may contain the Andy Capp's Cheddar Fries flavor, which would include an undeclared allergen, soy. Anyone who has an allergy or severe sensitivity to soy runs the risk of serious or life-threatening allergic reaction if they consume these products. The product was shipped to retail food distributors in three states for distribution to retail stores in Virginia and seven other states.
Read the entire news release:

12/14/2012 6:00 a.m. UPDATE:
An overnight Ferrum College campus lockdown has been lifted and students are asked to resume normal activities. Just before 6:00 a.m. officials said students were free to move around campus as usual and that exams would proceed as scheduled. Ferrum College Police, Franklin County Sheriff's deputies and Virginia State Police continue to investigate an attempted armed robbery and robbery of a wallet at gunpoint last night. Campus police responded to the first call around 9:15. The second call came in while police were taking the first report.

An exhausting U.S. Senate race that led the nation in spending by murky outside, independent groups and has tested voters' patience for a year is over. Democrat Tim Kaine came out with a slight edge over Republican George Allen. 52 to 48 percent. WFIR's Velvet Hall has more…

The Obama campaign has released details on former President Bill Clinton's stop tonight (Saturday) in Roanoke. The Clinton event will be at Patrick Henry High School at 7:00 p.m. Doors open at 6:00 p.m. You have to have a ticket to get into the event, but they are free. You can click here for a direct link on the Obama campaign website to sign up for an e-mail to get an e-ticket.
UPDATE: Roanoke police say they have arrested the suspect in an early Saturday morning stabbing. The police department says Alex Hamm turned himself in to police around 8:45 p.m. Monday. He is charged with the murder of Anthony Hall.
Roanoke police are looking for Alex Daniel Paul Hamm, 36, of Roanoke. A warrant for Hamm has been obtained for the Sept. 15, 2012 murder of Anthony Dale Hall, 27, of Roanoke. Officers found Hall stabbed around 2:30 a.m. Saturday in the 700 block of Bridge Street in southwest Roanoke. That's near the Bridge Street Grille. Hall died at the hospital and police suspect Hamm of the stabbing death. If you know the whereabouts of Hamm, you're asked to call 911 immediately.