The Franklin County Sheriff's Office says it's investigating the shooting death of a juvenile Monday morning. WFIR's Velvet Hall has more:
Roanoke police continue to investigate a shooting on the Greenway that sent one person to the hospital with non-life threatening injuries. It happened just before 9:00 p.m. Friday, when a man pulled a gun on another man near the Ramada Inn on Franklin Road. Police are looking for a man, approximately 5-feet, 7-inches tall, wearing a gray hooded sweatshirt. There is no word on what led to the shooting or if the victim and suspect know each other. Officers patrolled the greenway over the weekend. Police have not said if that is just a normal increase for this time of year or if patrols have been stepped up because of the shooting.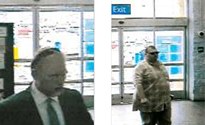 Authorities are asking for help identifying two men suspected of using stolen credit cards at stores in multiple jurisdictions. Police say the men may be targeting college campuses along the Interstate 81 corridor.
The Medicaid expansion debate in Virginia has the attention of some of the largest insurance companies in the country…no matter the outcome. WFIR's Velvet Hall has more:

The Virginia Department of Transportation says the work requiring a detour on Interstate 81 North in Montgomery County has been completed early. The detour ended at approximately 6:30 this morning, April 11. All traffic may travel on northbound I81 and is no longer required to detour between Christiansburg Exit 118C and Dixie Caverns Exit 132.
The contractor will resume the remaining work using nightly lane closures Sunday through Thursday beginning at 10 p.m. each night until 6 a.m. the following morning until October 2014.

Roanoke City Council will not make a decision about a proposed cell phone tower until June, but members have decided to form a permanent Mill Mountain Advisory Committee. Velvet Hall has details:
There are two public hearings tonight for a proposed Bedford County real estate tax rate hike and the Fiscal Year 2015 budget. The board of supervisors has advertised a real estate tax rate of 53 cents per $100 of assessed value. That is up 3 cents from the current rate. Supervisors say it will not necessarily go up that much, but it cannot increase any more than 3 cents.
The public also will be able to weigh in on the board of supervisors' proposed budget for the year beginning July 1. The meeting begins at 7:30 p.m. at the Bedford Science and Technology Center on Edmund Street.

State police are investigating a Bedford County crash that killed a woman from Moneta Sunday morning. Police say it happened around 9:40 a.m. on Route 747, near Route 122. The investigation shows Shirley that Jean Branscome was traveling north in a 2004 Nissan Sentra, when the vehicle ran off the road and overturned. Branscome did not have on a safety belt at the time of the crash. She died at the scene.

The Virginia Department of Transportation says the left southbound lane of Interstate 81 in Roanoke County is closed between mile markers 132 and 133. A VDOT contractor working last night on a bridge had expected to be finished by 6:00 this morning. An equipment breakdown caused a delay in reopening the lane. Officials hope the closure will be lifted by noon.