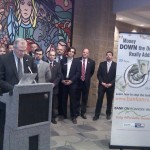 13 Bank On Roanoke Valley partners set a target of having one-thousand new accounts at local banks and credit unions over the next two years when they announced the program…participants made that vow in January. One way they figure to do that is by de-mystifying banking, loans, credit and other financial issues.  WFIR's Gene Marrano has more: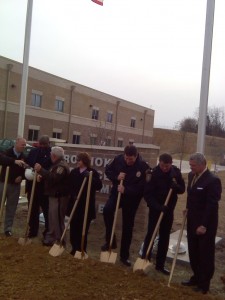 Roanoke area law enforcement officials and political leaders broke ground this afternoon on an addition to the Roanoke Police Academy off Peters Creek Road…the addition will make room for Roanoke County Police, the county sheriff's department and Western Virginia Regional Jail. Roanoke County Police Chief Howard Hall likes the idea of working more closely with his counterparts in Roanoke City. The 83-hundred square foot addition will cost 3-million dollars…most of the funding comes from an asset forfeiture account. Hall said it should be ready by next January.
Lt. Mike Williams runs the Roanoke County Criminal Justice Academy now, which is housed in cramped quarters at the county's public safety building. Williams said it will help build a better rapport early in the careers of law enforcement officers in both jurisdictions – which will be helpful when they have to work together.
(photo, text by Gene Marrano)


Until a few years ago Virginia High School League semi-final basketball games at various classifications were played in Richmond on the Virginia Commonwealth University campus. Now there are Super Sites like the Salem Civic Center, as WFIR's Gene Marrano reports:
(AP) Longtime Republican operative Boyd Marcus' appointment to the Alcoholic Beverage Control Board likely won't last much longer.  A House panel voted Wednesday to reject Marcus' appointment to the $130,000-a-year job, widely viewed as a plum political appointment. Republican lawmakers view Marcus as a party traitor after he shocked the Virginia political establishment last year and endorsed Democrat Terry McAuliffe over his Republican rival.  Records show Marcus was paid $140,000 to consult for the McAuliffe campaign. Marcus argued Wednesday that he's qualified for the position. House Democrats said the General Assembly should give the governor wide latitude in making appointments. 

A public policy think tank based in Richmond says a compromise now being debated in the General Assembly that would offer health care to more low-income Virginians may work as an option to Medicaid expansion. Michael Cassidy is president of The Commonwealth Institute for Fiscal Analysis… he says one promising Senate proposal involving private insurers is viable. WFIR's Gene Marrano has an extended conversation with Cassidy.
The chairman of Roanoke County's School Board says the decision to cut benefits for part time workers only came after all other options were considered. Drew Barrineau says over the past 4-5 years the school board has – quote – "looked under every rock at how we do business."  WFIR's Gene Marrano has more:

(AP) Some Virginia Democrats have expressed concern over Governor McAuliffe's pick for chairman of the Democratic Party of Virginia. It's because Richmond Mayor Dwight Jones has not declared support for same-sex marriage. Leaders in the party's gay and lesbian community suggest that picking Jones would signal that the state party is "retreating" on the issue, weeks after a federal judge ruled that Virginia's ban on same-sex marriage is unconstitutional.

(Salem, Va.) A joint late-February phone poll conducted in part by Roanoke College shows Hillary Clinton would win a race for the president against Republicans Chris Christie, Rand Paul or Paul Ryan, at least in the states of Virginia, New Jersey and New York where the poll was taken. A majority in each state supports raising the minimum wage to 10.10 an hour…and legalizing medical marijuana in all 50 states. Respondents also want to see the Keystone oil pipeline approved, approve of same sex marriage and a national gun registry.

Over the past month or so the Taubman Museum of Art in Roanoke has unveiled a number of new exhibitions, part of a commitment to keep things fresh for patrons. WFIR's Gene Marrano has more: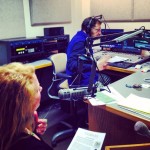 Deputy Director of Exhibitions Amy Moorefield talks about new exhibitions and the state of the Taubman Museum in this extended conversation with WFIR's Gene Marrano.