One of the few areas of contention among Roanoke City Council candidates at several forums seemed to center on interpreting crime rate trends. WFIR's Gene Marrano reports:

Those lucky enough to get through to Jefferson Center this morning for Sheryl Crow tickets can look forward to her July 31st concert at the new Elmwood Park amphitheater. But a low $15  price helped create a huge demand that overwhelmed the Jefferson Center's website and the box office phone line. WFIR's Gene Marrano has the story.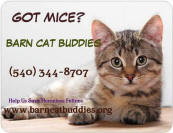 Need a cat to chase after mice in your barn or garden? Barn Cat Buddies wants you to know April is "Adopt a Barn Cat Month". WFIR's Gene Marrano has details: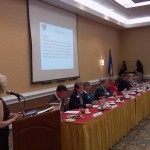 A lunchtime forum for Roanoke's ten City Council candidates at the Sheraton Hotel today marks the third time they will get together this week. Three seats are being contested in the May 6th election. WFIR's Gene Marrano reports:
Once you complete "America's Toughest Road Marathon," as the Blue Ridge Marathon in Roanoke is promoted, most races afterwards will be a piece of cake. That's the message from guest of honor Zoe Romano. WFIR's Gene Marrano reports:
Roanoke City Councilman Sherman Lea spent 32 years working for the Virginia Department of Corrections. Now he has been appointed to the Virginia Parole Board by Gov. Terry McAuliffe. WFIR's Gene Marrano has more:

Animal lovers have several chances in the next few weeks to enjoy events at Mill Mountain Zoo. WFIR's Gene Marrano has more:

The Roanoke Valley's blend of outdoor amenities and amateur sports tournaments helps bring in over $700-million from tourists to the Blue Ridge region every year. The economic impact of sports and the outdoors is the subject of a breakfast forum tomorrow. WFIR's Gene Marrano explains:
Governor Terry McAuliffe's Statement on the Budget Impasse:
Over the past two months, I have traveled across the Commonwealth and met with hardworking Virginians who are caught in the health care coverage gap. These are people who do not qualify for Medicaid, but cannot afford health insurance on the federal exchange. These Virginians, as well as local business leaders, healthcare providers, and public safety officials have urged Virginia's elected officials to put partisan politics aside and close the coverage gap. But as of today, our legislature is nearly five weeks past their deadline of passing a budget. As the body responsible for negotiating a budget, the General Assembly has failed to deliver on one of the primary duties they were elected to fulfill.

The General Manager of the new Harvester Performance Center – which opens tonight – says the music hall in Rocky Mount will find its own niche. the Town of Rocky Mount has sunk about three million dollars into the project. WFIR's Gene Marrano has more: