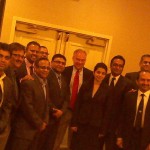 U.S. Senator Tim Kaine was in Roanoke this morning, meeting with a group of Asian-American business owners … Kaine noted that the population among those of Asian decent is now growing in this part of the state after being concentrated in Northern Virginia … as a Senator he's met with business associations before but never in Roanoke he said today. The local Asian-American Business Owners Association in Roanoke has about 300 members; mostly of Indian descent; many operate small businesses or are entreprenuers. WFIR's Gene Marrano was there to speak with Sen. Kaine:
The Roanoke County Board of Supervisors will vote on a 388-million dollar budget for the next fiscal year at its meeting this afternoon – the first with new County Administrator Tom Gates at the helm … more from WFIR's Gene Marrano:
Click below to hear more from Tom Gates (speaking with WFIR's Gene Marrano) on the budget process – and his first five months on the job:
The U.S. Senate must still vote on a bill that changes how the N-S-A could collect American phone records … Virginia's junior Senator is pushing for that vote as WFIR's Gene Marrano reports:

An out-of-court settlement of an antitrust lawsuit allowing Liberty Christian Academy in Lynchburg to join the Virginia High School League had an immediate impact in Roanoke … more from WFIR's Gene Marrano:
On May 18, 2015 at 11:27 p.m. Roanoke Police were dispatched to the 3700 block of Dogwood Lane SW to investigate a report of a breaking and entering in progress.  Once on scene, officers met with one of the victims. The victim told officers he apparently startled the suspect as he was trying to enter his home through a window. The victim said the suspect ran away before police arrived on scene. Officers collected potential physical evidence at the scene.
The investigation led officers to Michael Harrison, age 35, as a suspect. Harrison is transient. On May 20th officers obtained warrants on Harrison for entering into a residence with intent to commit burglary and petit larceny. Officers are actively looking for Harrison in order to serve the warrants.  Harrison is approximately 5'10" and 160 lbs. If you know Harrison's immediate whereabouts please call 911. If you have any information that might help investigators find him please call the Roanoke Valley Crime Line at 540-344-8500. All information left with Crime Line is anonymous.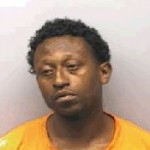 Roanoke City did it late last year … so have a handful of other localities in Virginia … and now the Commonwealth has "banned the box" on its job applications … as WFIR's Gene Marrano reports:

The scholastic year may be coming to an end but one local rising senior at Patrick Henry High School will keep on learning in Aspen, Colorado next month … as WFIR's Gene Marrano reports:

Every year the Ronald McDonald House in Roanoke sells packs of "holiday cards" with a cover design created by a local artist … this year the winning submission will be selected by the public as WFIR's Gene Marrano reports:
Click below to see the holiday card art and to vote for a favorite:
https://www.facebook.com/rmhcswva/app_126231547426086

The next Roanoke "Star Tank" featuring entrepreneurs looking for seed money and advice takes place in October … but at last week's Tip-off a number of startups got some early pointers … WFIR's Gene Marrano has more on one "big idea":
Its not sure what impact the Roanoke County Pipeline Advisory Committee will have if and when the Mountain Valley Pipeline is built – but they met again today … meanwhile Virginia's Governor supports gas pipelines as WFIR's Gene Marrano reports: