The fourth annual "Zombie Run" this Saturday to raise money for Special Olympics Virginia has a few new twists this year. More from WFIR's Gene Marrano:
Its billed as an "educational employment placement program" for those in need of a helping hand – and it debuts with a ribbon cutting this morning as WFIR's Gene Marrano reports:

A personal finance company scored the "Best Cities to be a healthcare professional" in and the Roanoke Valley fared very well. More from WFIR's Gene Marrano:

Neil Simon's 1965 Broadway smash "The Odd Couple" – later a movie with Jack Lemmon and Walter Matthau – then the classic Tony Randall/Jack Klugman TV show – debuts on stage tonight at Mill Mountain Theatre. It runs through October 9th. We all know the story – the fussy "Felix" character is thrown out by his wife and moves into a Manhattan apartment with his unkempt friend Oscar. Its a love-hate relationship and very funny. WFIR's Gene Marrano spoke to the director and the actors playing Felix and Oscar. Here's a Longer Listen – beginning with director Jay Briggs:

A communications professor who keeps on eye on politics offers his take on Monday night's presidential debate. More from WFIR's Gene Marrano:

The Virginia Cooperative Extension wants Head Start parents to set good examples for their kids via healthy cooking classes. More from WFIR's Gene Marrano:

An event open to all but focused on making sure African-American women are doing their best to prevent or detect breast cancer early returns on Thursday night. More from WFIR's Gene Marrano on "Sisters Night Out":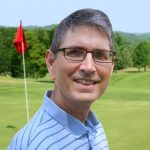 Floyd-based golf blogger and author Neil Sagabeil (pictured) once interviewed Arnold Palmer for a book he wrote about the 1955 U.S. Open. Sagabeil says Palmer – who died at age 87 over the weekend – may have had the greatest impact on the game over the past 60 years. Sagabeil  also says the duels between Palmer and Jack Nicklaus in the 1960's pushed Nicklaus to become perhaps the top golf pro of all time.

The latest Christopher Newport University survey has good news in Virginia for Hillary Clinton – but negative numbers as well for both major party presidential candidates. More from WFIR's Gene Marrano: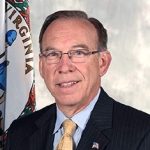 Speaking with Joey Self and Gene Marrano on the Roanoke Valley's Morning News today WFIR political analyst Dr. Bob Denton (Virginia Tech communications department) weighed in on what's at stake when Democrat Hillary Clinton and Republican Donald Trump meet to debate tonight. WFIR will carry that debate live at 9-pm. Here is that interview: