The stories about local Girl Scout events you may have seen on WDBJ-7 over the past year or so often involved reporter Alison Parker and cameraman Adam Ward – they are gone now but a local Girl Scout executive says she will never forget them … more from WFIR's Gene Marrano:
Alison Parker was 24 and hailed from Martinsville … Adam Ward was 27 and from here in Salem … WFIR's Gene Marrano has reaction from several people to their shocking on-air murder yesterday as they were doing a live remote at Smith Mountain Lake:

The president of Virginia Prosthetics and Orthotics says proposed changes in "Local Cover Determinations" for lower limb replacements is bad news for Medicare patients, veterans and the privately insured. More from WFIR's Gene Marrano:

A silent auction is being held in Roanoke to support the Carilion Breast Care Center. More on this story WFIR's Bob Clark:

A variety of fall classes are now forming at a local theatre. Details from WFIR's Bob Clark: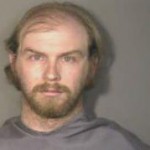 The Franklin County Sheriff's office is investigating the death of a three-year-old that occurred in the Hardy area on Sunday … rescue crews found the child unresponsive after they were dispatched … the child was pronounced dead at the scene … a medical examiner said yesterday that resulted from a small caliber gunshot wound … now the child's father Jeremiah Neiderhiser (pictured) has now been charged … he's being held at the Western Virginia Regional Jail.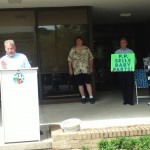 The furor over covert Planned Parenthood videos about the selling of fetal parts for research has led Al Bedrosian to call for Roanoke County to sever ties with United Way – which helps fund that agency … more from WFIR's Gene Marrano:

Roanoke City has begun delivering big blue recycling containers to residents. WFIR's Bob Clark has more on that story…………..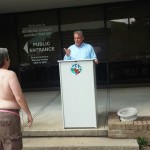 Fireworks today as supervisor Al Bedrosian again made the point at a news conference that Roanoke County – even indirectly through an employee campaign – should not be giving money to United Way since some of it goes to Planned Parenthood – the conservative Hollins supervisor is opposed to abortions provided by that agency … protestor Lee Ann Woods told Bedrosian Planned Parenthood does a lot of good …Woods then took off her blouse to show Bedrosian her radical mastectomy – she told the him Planned Parenthood will provide breast implants and said medical personnel detected another cancer. WFIR's Gene Marrano was there when Bedrosian – and Woods- spoke:
Today is the first day of classes for Roanoke County public school students … its also the first school day for the new superintendent … as WFIR's Gene Marrano reports: