Seventeen college students from 10 states are spending the week at Camp Easter Seals in Craig County, building a pagoda, nature trail and ropes course. The camp serves children with cerebral palsy, and it is one of several the students are visiting as part of a summer volunteer work project. WFIR's Evan Jones has the story.
Click here for more information on "Build America".
The oil and gas industry welcomes a federal government move that could eventually lead to drilling off Virginia's shoreline, but environmentalists do not share that enthusiasm. The Obama administration has approved the use of seismic technology to explore for oil and gas in waters from Florida to Delaware. WFIR's Evan Jones has the story.

The murders of two brothers in Henry County has led to two arrests — and officials say the investigation goes much further, including a drug pipeline, forged ID's and possible immigration issues. WFIR's Evan Jones has the story.

Roanoke County Public Schools are taking a new step to help parents of special education students. Today, for the first time, their Parent Resource Center is using a state grant to hold a parent training program designed to help families learn more about options and resources available. About 15% of the county's 14,000 students are enrolled in special education. WFIR's Evan Jones has the story.
The House of Representatives has approved a permanent ban on taxing Internet access — with Roanoke Congressman Bob Goodlatte playing a key role in the process in its passage. Backers say the ban would continue spurring America's digital economy and avoid more tax burdens on its citizens. Opponents say it could force some states to raise other taxes or cut services.  WFIR's Evan Jones has the story.
U.S. News and World Report ranks Carilion Roanoke Memorial Hospital as fourth best across Virginia — among the 129 hospitals statewide. Factors in the magazine's rankings include outcomes, patient safety and the hospital's reputation among medical specialists. U.S. News and World Report says Carilion was among 24 Virginia hospitals meeting "standards for strong performance within the state."  Click here to see the Virginia rankings and methodology used to create them.

As the Outer Banks saw over the weekend, hurricane season is now here. Hurricanes have the potential to affect our region's gas prices more than anything else in the coming months, depending on where they strike. More from WFIR's Evan Jones.
Click here to see the nation's lowest average gas prices from GasBuddy.com.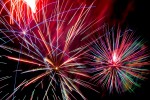 Many communities will hold fireworks displays tonight, but before anything shoots into the sky, fire departments work with organizers in efforts to avoid any trouble on the ground. In Roanoke City, for instance, the department establishes safety zones for tonight's program at River's Edge. WFIR's Evan Jones has the story.
Roanoke Mayor David Bowers calls it a "leave of absence", stepping aside this week from his law practice of 35 years. Bowers says at age 62, it's harder to get through the longer hours a private practice and public elective office frequently require. As WFIR's Evan Jones reports, Bowers says his future plans are not yet clear, and he is not ruling out a return to his law practice.
It's now state law: as of yesterday, you must present a valid photo ID whenever you vote in Virginia. Registrars are preparing to educate voters, and at least one in the Roanoke Valley is turning to animation and You Tube to get the word out. WFIR's Evan Jones has the story.
Click here to see the video