Roanoke Police hope an outdoor surveillance photo will help them find the man who held up a downtown Wells Fargo bank branch this morning. Police say he walked in around 10:30 to the office at Campbell Avenue and Jefferson Street, demanded money, and left on foot. Police say it appears no weapon was displayed, and nobody was hurt. Police say the photo to the left highlights the suspect's black rubber-soled duckboot-style shoes. In addition, police say the mask appears to be of the painters variety, and the suspect  had on a black shoulder length wig with red or
maroon highlights.  He is described as a back male who seemed to have acne scars or shaving bumps on face, 20 to 30 years of age, 5'10" to 6'1″ tall, 185 to 220 lbs, wearing a a dark sweatshirt, blue jeans, white tee shirt underneath.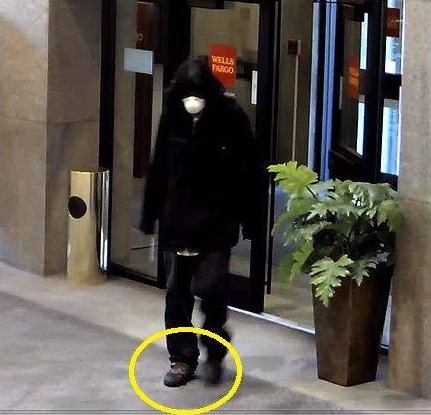 Freeda Carthcart is making another run for elective office, this time a second campaign for Roanoke City Council. The official announcement is scheduled for Thursday morning. Cathcart ran against Chris Head for delegate in 2011 and for City Council two years ago. She will run in next month's Democratic primary focusing on creating opportunities for better-paying jobs.
(Continue reading for see the Cathcart news release.)

Virginia's elected Democrats applaud President Obama's executive actions intended to reduce gun violence, but Republicans say they are generally misguided and ineffective. WFIR's Evan Jones has the story.

Anyone who regularly takes Exit 150 at Cloverdale is going to see some big changes this year — although the project won't take its final shape until 2017. More from WFIR's Evan Jones.

Salem's first experiment with bagging the one-hour downtown parking limit is over with the new year, but city leaders say they're looking at more ways to permanently provide more parking opportunities. WFIR's Evan Jones has the story.

If a road trip is part of your plans any time through the New Year's weekend, it is a lot less expensive at the gas pump than in recent years — and experts predict even lower average prices for 2016. More from WFIR's Evan Jones.

Roanoke Valley home sales are headed for their strongest showing in years for both the numbers of sales and average home prices. The Roanoke Valley Association of Realtors reports through November of this year, more homes have been sold than for all 12 months in any recent year. WFIR's Evan Jones has the story.

The Yokohama Tire plant in Salem passed two major milestones as 2015 neared an end. It's the 25th anniversary there, and Yokohama says it recently produced its 80 millionth tire in Salem. WFIR's Evan Jones has the story.
Republican Congressman Robert Hurt announced today he will not seek re-election to a fourth term in the 5th District. Hurt says he never envisioned making elected office his career, and he now looks forward to returning to life as a private citizen. Hurt was first elected in 2010, defeating incumbent Democrat Tom Periello. Hurt was reelected in 2012 and 2014.
(Continue reading to see Hurt's full statement.)