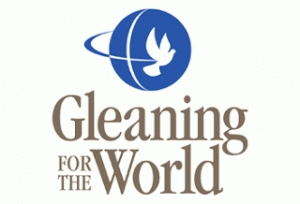 A  Lynchburg-area faith-based organization is setting up two collection points for the next three days to gather supplies for typhoon victims in the Philippines. Gleaning for the World will conduct collection drives at the Lynchburg Sam's Club and Bedford WalMart today through Thursday from 10:00 am to 6:00 pm. They are asking for all kinds of supplies to help the typhoon victims. WFIR's Evan Jones has the details.
Click here for full relief information
Click here for the Gleaning for the World website.
The number of Roanoke Community gardens is now up to five, gardens serving as common areas for people raise their own greens and vegetables. The latest is nearing completion in the Mountain View neighborhood, and organizers say it's just part of a growing trend for locally-grown produce. WLNI/WFIR's Evan Jones has the story.
Click here for information on today's flash mob fund-raiser for the Roanoke  Community Garden Association.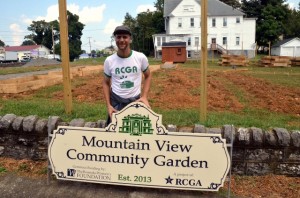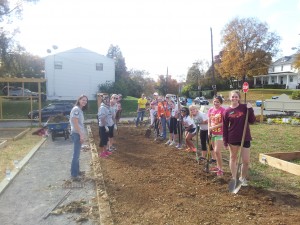 Roanoke Community Garden Association photos
Today is the deadline for all Virginia provisional votes to either be counted or ruled invalid.  If recent history is any guideline, the race for Attorney General may not be decided until the week before Christmas.  One thing is already certain: there will be plenty of lawyers looking on when the votes are recounted. WFIR's Evan Jones has the story.

Botetourt County school officials say a note found in a bathroom led to today's lockdown at Lord Botetourt High School. Students were kept in their classrooms until sheriff's deputies and other law enforcement personnel searched the building and grounds.
Here is the Botetourt County Schools news release:
Lord Botetourt High School conducted a lockdown today at 10:30 a.m. after a written bomb threat was discovered. The threat was on a stall door in a restroom.
The building was not evacuated based upon the threat assessment conducted by school administration and the school resource officer in accordance with the school crisis plan.
After a thorough search of the building and grounds was conducted by school staff, Botetourt County Sheriff's deputies, and other cooperating agencies, no evidence of a bomb or other threat was found. The lockdown ended at approximately 1:15 p.m.
The School Division expresses appreciation to all agencies involved for their support related to the evolving situation today.
Democratic and Republican party leaders are going over Virginia's race for governor to determine what lessons might be learned. Democrats say Terry McAuliffe's victory is a message to the country in favor of President Obama's policies and a repudiation of  "Tea Party" goals. A top Republican strategist tells us the core GOP values hold up well, but the party needs candidates more ably to deliver those values to voters. WFIR's Evan Jones has the story.
Click here for Democratic National Committee Communications Director Mo Elleithee's web site.
Click here for Republican strategist Ford O'Connell's web site.
Republicans will have a new and instant majority on the Roanoke County Board of Supervisors, with three new members elected Tuesday. Al Bedrosian won the three-race Hollins District race, former Supervisor Joe McNamara is returning to the board in the Windsor Hills District,  and Jason Peters was unopposed in the Vinton district. WFIR's Evan Jones has the story.

Roanoke appears set to approve a Stormwater Management Plan that would mean a new monthly fee for all property owners. But the city is working on ways to reduce the bill by as much as 50%. It will include a list of credits for things like rain barrels and creating land areas for runoff to seep into the ground instead of heading for storm drains.WFIR's Evan Jones has the story.
Salem Police hope surveillance photos help lead them to a burglary suspect. Police say a man was photographed burglarizing Thunder Valley Family Entertainment Center Saturday on  Dillard Drive, just off Apperson Drive. Police say cash was taken in the burglary, but the amount is undisclosed. Anyone with information is asked to call Salem Police at (540) 375-3083 or Crime Line at (540) 344-8500.
Surveillance photos from Salem Police
There is now but one day to go before the campaigning ends and the voting begins, and candidates won't be the only ones who are very busy today — elections officials have plenty to do to get ready.  WLNI-WFIR's Evan Jones has the story.
Liberty University is offering a new major this year, one which appears to have exceptionally strong job prospects. It's a bachelors program in American Sign Language and Interpreting. Liberty says the Americans with Disabilities Act has created a strong demand for certified interpreters. WLNI/WFIR's Evan Jones has the story.