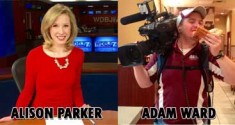 The public observances mourning the loss of two WDBJ7 journalists neared an end this morning as James Madison University — Alison Parker's alma mater — held a vigil on campus. It started at 6:45, the time one week ago that Parker and Adam Ward were fatally shot during a live broadcast. And as WFIR's Evan Jones reports, Liberty University joins Virginia Tech in honoring both this weekend on the field.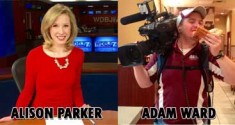 The mourning process moves to a new phase today as the family of slain WDBJ7 photojournalist Adam Ward receives visitors at Salem High School. This comes one day after a service honoring both Ward and reporter Alison Parker.  WFIR's Evan Jones has the story.
The former WDBJ-7 News Director who hired — and fired — the man who fatally shot reporter Alison Parker and videojournalist Adam Ward says Vester Flanagan was a "professional victim" with a history of personal conflicts. Flanagan was better known by his on-air name of Bryce Williams. Dan Dennison says Flanagan  never understood he was the source of those conflicts. WFIR's Evan Jones has the story.
(Associated Press contributed the Dan Dennison audio to this report)
As funeral arrangements are announced for one of Wednesday's WDBJ7 shooting victims, the station says the gunman had not shown any visible hostility to any employees since his termination. WFIR's Evan Jones has the latest.

Experts are predicting the national average price for gasoline is likely to fall below $2 a gallon by Christmas, but that is already starting to happen in the Roanoke Valley. As of late Monday morning, GasBuddy.com showed three stations selling at prices below $2. WFIR's Evan Jones has the story.

UPDATE: Traffic is reported to be moving normally again through the area.
Roanoke County emergency dispatchers confirm that crews have responded to a tractor-trailer accident on Windy Gap Mountain, the stretch of State Route 116 south of Roanoke that has seen several such accidents in past years. It is a hilly and winding stretch of roadway not well-suited to trucks, so much so that tractor-trailers are banned from using it, and there are signs posted in each direction specifically alerting truck drivers to the prohibition. VDOT officials have said in the past that truckers nonetheless head that way at times because many GPS devices will suggest that routing.
Senator Mark Warner meets today with Roanoke area "sharing economy" workers like Airbnb or Uber. Warner says  he wants to hear some of those workers offer ideas on what government policies might be helpful for this growing segment of the workforce. WFIR's Evan Jones has the story.
RICHMOND, Va. (AP) _ Former Virginia Gov. Bob McDonnell has made a final plea to a federal court to let him remain free while he appeals his public corruption convictions to the U.S. Supreme Court. In court papers Monday, attorneys for McDonnell argued that federal prosecutors are off base in suggesting the Supreme Court is unlikely to take his case. McDonnell says his case clearly raises important legal questions that merit Supreme Court review. McDonnell and his wife, Maureen, were convicted of doing favors for a wealthy businessman in exchange for more than $165,000 in gifts and loans. He was sentenced to two years in prison. She got one year and one day. The 4th U.S. Circuit Court of Appeals last week refused to reconsider a three-judge panel's ruling upholding Bob McDonnell's convictions.

Advance Auto Parts is downsizing, at least for the moment, and that's a change in direction for the Roanoke-based company. This comes as Advance earnings beat Wall Street expectations — and investors cheer. WFIR's Evan Jones has more.
Evidence presented in court yesterday at least leaves open the possibility that five-year-old Noah Thomas got into a septic tank himself — the tank where his body was found four days after he was reported missing. The new information came out in yesterday's court hearing for Noah's parents, Ashley White and Paul Thomas. A medical examiner testified Noah died last March from drowning and hypothermia in that septic tank behind the family's Pulaski County home, with no sign of any serious injuries. But evidence presented yesterday suggests there is still no clear indication as to how the boy got in that tank; a sheriff's corporal testified the lid to it was quite light and easy to move. After  hearing testimony, the judge dropped the felony homicide charge against Ashley White, which means she and Paul Thomas both face child abuse and neglect charges. Investigators say the two left Noah and his baby sister alone at the home for a while on the morning he disappeared. Next up in the case: a grand jury considers the charges.