Pro-life supporters are unhappy with an opinion from Attorney General Mark Herring on abortion clinic building regulations, but pro-choice supporters say it's about time an earlier decision is  reviewed. At issue is whether existing Virginia abortion clinics should meet the same building standards as hospitals. WFIR's Evan Jones has the story.
A state task force created after the fiery Lynchburg oil train derailment one year ago has released its initial report and recommendations. Among other things, the Virginia Railroad Safety and  Security Task Force recommends increased state inspections of tracks carrying crude oil and other hazardous materials — and requiring railroads and federal regulators to share all safety-related information. WFIR's Evan Jones has the story.
A new museum is set to open next month at Center in the Square in downtown Roanoke dedicated to the history of pinball. And if there was ever a hand-on museum, this will be it: admission lets you play them all. WFIR's Evan Jones has the story.
Click here for the Roanoke Pinball Museum's Facebook page
Attorney General Mark Herring has sent letters to representatives of Sweet Briar College and the group hoping to keep it from closing. The letter asks for a meeting sometime in May in hopes of finding a resolution that does not involve costly litigation. The letter re-affirms Herring's previous statements that his office has no standing to take a position one way or another.

A new children's enrichment center is preparing to open its doors this weekend, and it's all based on a well-known childhood staple. Bricks 4 Kidz uses LEGOs to create projects for children three to 13, the goal being to provide an educational experience that is creative and fun. WFIR's Evan Jones has the story.
Click here for the Roanoke Valley Bricks 4 Kids web site.

The U.S. Forest Service is issuing a temporary special use permit that will allow surveying in the Jefferson National Forest for the proposed Mountain Valley natural gas pipeline. The permit covers proposed pipeline routes through forest lands in Roanoke, Montgomery, Craig, and Giles Counties. As WFIR's Evan Jones reports, this is not a permit for any pipeline construction.
(Continue reading for the full U.S. Forest Service news release.)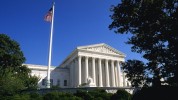 Virginians on both sides of the same-sex marriage debate plan to be at the U.S. Supreme Court today as justices consider whether state bans on such marriages are unconstitutional. This specific case does not involve Virginia, but the justices are expected to rule by late June whether states have the right to define marriage as the union between one man and one woman. WFIR's Evan Jones has the story.
A new study puts the economic impact of the Hotel Roanoke and Conference center at $616 million since it opened 20 years ago. City officials say it's a good example of what public money, wisely spent, can generate. WFIR's Evan Jones has the story.

Once again, a camera in the middle of Smith Mountain Lake lets you look in on a pair ospreys trying to raise a family. But as WFIR's Evan Jones reports, if recent experience is any guide, nature can be rough, and survival is anything but guaranteed.
Here is a longer-form interview with Smith Mountain Lake State Park Manager Brian Heft:
Click here to watch the Smith Mountain Lake Ospreycam.

Vinton has dumped its dumpsters. The town has closed the dumpster site that had been available to residents seven days a week. Main reasons include the $10,000 annual cost, a perennial problem with vultures in the area, and with a waterway canoe launch in the works, a way to improve the nature experience. WFIR's Evan Jones has the story.