A Roanoke Valley organization dedicated to finding permanent homes for stray cats holds an adoption event Saturday. Barn Cat Buddies will bring the felines to "Kittenpalooza" at Towers Shopping Center Petco from 10:00 am to 2:00 pm. Founder Diane Novak says these events often help those thinking about such adoptions:

The cats have all the vaccinations and medical procedures, and they're even microchipped. Each adoption costs $50 — or you can adopt a bonded pair for $75.

A Floyd County man received a Purple Heart, Bronze Star and other medals for his military service — 70 years later. Erbie Huff was wounded in action on Okinawa in June of 1945. He earned several medals but never received them until Congressman Morgan Griffith presented them this week.  WFIR's Evan Jones has the story.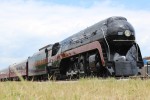 The Virginia Museum of Transportation is preparing to send the iconic Norfolk and Western 611 back into action this weekend, excursions likely to benefit both the museum and the region's economy. The trips are sold out — and many visitors come from out of town, spending money here on food and lodging. WFIR's Evan Jones has the story.
If you are hitting the highways for the holiday weekend or have a summer road trip planned, gas prices are about 90 cents a gallon a lower than last year. Experts expect them to start falling shortly, but any sharp declines are not likely until fall. WFIR's Evan Jones has our summer outlook.
Among nearby bordering states, West Virginia has the highest average prices and Tennessee the lowest.
Congressman Morgan Griffith — a persistent critic of the Environmental Protection Agency — says a Supreme Court ruling yesterday is "good news" that sends an important message to federal regulators. The court blocked an Obama administrative initiative meant to limit emissions of mercury and other toxic pollutants from coal-fired power plants.  Griffith spoke with WFIR's Evan Jones.

A local cat adoption agency is conducting a free sterilization and rabies vaccination — just for cats living in Roanoke-area mobile home parks. Barn Cat Buddies is doing so under a grant awarded by the Petco Foundation. Barncat Spokesperson Diane Novak says the idea came from a visit to a mobile home park, where she was told there were one or two stray cats:
Novak says cats living in mobile home parks are more likely to be left behind when residents move out:

The vaccination and sterilization program is free. Click here for the Barn Cat Buddies web site.

UPDATED 7:40 AM — From Roanoke Fire-EMS: On Thursday, June 18, 2015, crews responded to a fire at 5008 Airport Rd.-Advance Auto Parts. The call was received in the E-911 Center at approximately 10:35pm and was under control at 1:08am. 46 personnel responded to the scene. When crews arrived they found a fire that appeared
to be electrical in nature. Crews worked with AEP and building maintenance to shut off the power and generators to the building. One firefighter sustained a minor leg injury due to a fall. The building sustained significant damages including heat, smoke and water. The cause is under investigation by the Fire Marshal's Office and preliminary damage estimates are approximately $750,000.
EARLIER: Roanoke City fire officials say several businesses will be impacted by a late-night fire at Crossroads Mall where the damage is  reported to be extensive.  Fire officials believe it started late last night in an electrical room near the Advance Auto offices at the Virginia Workforce Connection.  There is fire, smoke and water damage in much of Crossroads,  and anyone who works there is urged to contact their employer to learn whether they should report. Fire inspectors hope to determine the cause today, and Roanoke building inspectors are expected  to determine the extent of structural damage. Dozens of firefighters from Roanoke City, Roanoke County and Botetourt County responded.
Virginia Tech may be hundreds of miles from the ocean, but Tech researchers are developing robotic underwater systems likely to have many future purposes.  WFIR's Evan Jones has the story.
Today is the last day to submit comments to federal regulators about the Mountain Valley Pipeline. The proposed natural gas pipeline would cross parts of Roanoke County on its way from West Virginia to North Carolina.  Click here for the Federal Energy Regulatory Commissions on-line comment site. The commission will ultimately decide whether or not to approved the pipline.
Time is running out in Congress to act on a measure that's been the subject of frequently-heard radio ads in recent months urging you to call your Congressman. At issue is the Export-Import Bank, and the ads heard here have named 9th District Congressman Morgan Griffith more than any other.  But as WFIR's Evan Jones reports, Griffith says can't decide on the issue until he sees the specifics of any bill that might reach the House floor: