Authorities say a man was shot with a blow dart near Radford University by someone who was driving by.Radford City police tell news outlets that the incident occurred Saturday night. The victim told police he was walking in the area when he was shot with a blow dart from a passing vehicle.Officials say the victim suffered a minor injury and was treated and released by EMS.Police say the vehicle is described as a passenger car that is silver or light in color.Anyone with information in reference to this incident is asked to call investigators at 540-731-3624.

CHARLOTTESVILLE, Va. (AP) – Jurors are heading back to court for the second week of the defamation trial against Rolling Stone magazine over its 2014 story about a rape at the University of Virginia.University of Virginia administrator Nicole Eramo is seeking $7.8 million from the magazine over its portrayal of her in Sabrina Rubin Erdely's article "A Rape on Campus."The story told the harrowing account of a woman identified only as "Jackie," who claimed she was brutally gang raped by seven men. A police investigation later found no evidence to back up Jackie's claims.Jurors are expected this week to watch a video of "Jackie's" deposition, which was taken in April. The trial, which began last Monday, is expected to last 12 days.

The Virginia Department of Elections says more than 27,000 people registered to vote during a brief extension of the state's voter-registration deadline.A federal judge granted the deadline's extension Thursday after heavy demand prevented some voters from registering online. U.S. Senior Judge Claude Hilton had ordered officials to reopen voter registration in the commonwealth and keep it open until 11:59 p.m. Friday.Election officials said in a statement Saturday that as of the 11:59 p.m. deadline for online registration, 27,952 voter registration applications had been submitted since the court order. Officials said the final number of applications submitted during the window will be higher when in-person and mailed voter registration applications are processed in the coming days.Mailed voter registration applications had to be postmarked on or before Friday.

ALEXANDRIA, Va. (AP) _ A federal judge has granted a brief extension of Virginia's voter registration deadline after heavy demand prevented some voters from registering online.  Judge Claude Hilton on Thursday ordered an immediate reopening of voter registration in the commonwealth through Friday. At a hearing in federal court in Alexandria, state officials actually wanted to extend the deadline even longer, through Monday. But Hilton said he only wanted to extend the process long enough to make up for the computer glitches that occurred in the hours leading up to the original Oct. 17 deadline. A voter advocacy group sued state officials this week seeking the extension. Virginia elections commissioner Edgardo Cortes says the department will notify voters of the extension. He says they can register online or by mail with a Friday postmark.

RICHMOND, Va. (AP) – The ACLU of Virginia is urging the elections commissioner to allow voters who could not complete their online registration when the portal crash to complete their applications.The organization sent a letter  yesterday to Elections Commissioner Edgardo Cortes, saying two sections of Virginia law require the department to determine who is standing in line when it is about to close on the last day of registration.The letter says officials must allow such voters to complete their registration later.Virginia's online voter registration system crashed Monday, preventing some Virginians from signing up to vote.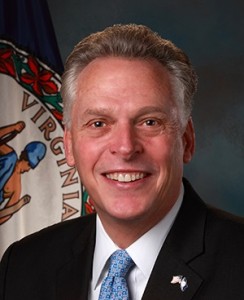 RICHMOND, Va. (AP) – Virginia Gov. Terry McAuliffe was among those being considered by Hillary Clinton to be her running mate.McAuliffe was among nearly 40 elected officials, military leaders and corporate CEOs considered in the spring for the vice presidential nominee by the Clinton campaign. The list was included among hacked emails from Clinton's campaign chairman disclosed by WikiLeaks. McAuliffe is a friend of Clinton and her husband, former President Bill Clinton. Clinton ultimately chose Virginia Sen. Tim Kaine, who was also on the list.In an unrelated email a year earlier discussing potential jokes McAuliffe could make at the annual Gridiron dinner, Clinton's campaign manager Robby Mook voiced concerns about reminding voters of McAuliffe's close ties to the Democratic presidential candidate."He conjures the 90s stuff," Mook said.

Opening statements are set to begin today  in the defamation trial against Rolling Stone over its now discredited story about a gang rape at the University of Virginia.The jury of eight women and two men was seated Monday. Only seven, to be specified later, will deliberate; three will be alternates.U.Va. administrator Nicole Eramo wants $7.85 million from the magazine for its portrayal of her in the 2014 story. She claims it portrayed her as the "chief villain."The article told the harrowing story of a woman identified only as "Jackie," who claimed she was raped by seven men in a fraternity initiation. A police investigation found no evidence to back up Jackie's claims and details in the narrative didn't hold up under scrutiny by other media.

RICHMOND, Va. (AP) – Hurricane Matthew will cost Virginia more than $2 million in bridge and road damage and cleanup costs.   The Virginian Pilot reports that the state Department of Transportation said the final addition of the storm's cost could take several days.  Southampton County had more than $1 million in damage to its roads, while Isle of Wight County had $300,000.   A VDOT official said nine roads will require major repairs, including U.S. 58 in Southampton.

WILLIAMSBURG, Va. (AP) – William & Mary recently obtained a rare 19th Century Quran similar to those read by slaves in Virginia. The university says the holy text was likely read by West African slaves, many of whom were Muslim. The handwritten Quran was most likely penned in northern Nigeria. Its calligraphy, decoration and vowel usage are unique to West Africa. The university says the book will be used in an Introduction to Islam class. It will be compared to Qurans read by other enslaved Africans in South America and the Caribbean. This is not the first Quran of that era to reach the campus. The university said Thomas Jefferson studied the Quran while attending law school at William & Mary. His copy is now at the Library of Congress.

RICHMOND, Va. (AP) – Virginia's attorney general says it's not against the law for Virginia voters to take photos of their ballots for publication on social media.The Richmond Times-Dispatch reports that Virginia Attorney General Mark R.Herring said in a Sept. 29 opinion that taking "ballot selfies" are not a crime as long as the act doesn't interfere with other voters or disrupt the election.The opinion came after two local-level election officials asked Herring to clarify whether new regulatory language approved by the State Board of Elections conflicted with state law. The new rules had eased restrictions on electronic devices.In his opinion, Herring said the new language doesn't contradict any law, but clarified that voters cannot use phones to get advice or assistance from someone outside the polling place.