PULASKI, Va. (AP) _ A prosecutor says the parents of a Virginia boy found dead in a septic left him at home with his infant sister on the morning he disappeared. Pulaski County Commonwealth's Attorney Mike Fleenor says Ashley White and Paul Thomas told investigators they left 5-year-old Noah Thomas and his 6-month-old sister at home while White drove Thomas to his job on March 22.   The Roanoke Times reports that Fleenor made the comments on Wednesday during a bond hearing for Paul Thomas. Thomas and White both face child abuse and neglect charges. White previously told investigators the children made the trip, and that the boy disappeared after they came home. Searchers found Noah Thomas' body on March 26 in a septic tank on the family's property. The father was denied bond.

RICHMOND, Va. (AP) _ Virginia state lawmakers are returning to the Capitol to vote on Democratic Gov. Terry McAuliffe's vetoes and proposed amendments. The GOP-controlled General Assembly will reconvene for its so-called veto session Wednesday. Among the legislation lawmakers will consider are tighter gift caps proposed by McAuliffe. The governor wants $100 aggregate gift limits from lobbyists and others with financial interests in state government, rather than a $100 per gift limit that lawmakers approved in February during the final minutes of the 2015 regular legislative session. The governor has also proposed amendments that would weaken bills aimed at limiting police surveillance technology like drones and license plate readers. Law enforcement groups support McAuliffe's amendments, but civil liberty advocates do not.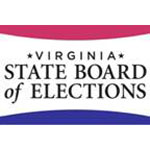 RICHMOND, Va. (AP) _ The State Board of Elections has decertified a touchscreen voting system used in about one-fifth of Virginia's precincts. The board's action Tuesday means the WinVote machines can no longer be used in Virginia elections. Gov. Terry McAuliffe ordered an investigation after widespread voting irregularities during the November general election. The glitches included machines crashing or recording a vote for the wrong candidate. The Virginia Department of Elections hired a federally certified voting system test lab to assist in the investigation, and the findings raised serious security concerns about the WinVote system that is used in 30 localities. A report said the system's wireless capability makes it susceptible to a security breach. WinVote, certified by Virginia in 2003, is the only system in the state with wireless capability.

BUENA VISTA, Va. (AP) _ The search for a man who disappeared while wading in the Maury River has been suspended until Friday. Rockbridge County Emergency Management coordinator Robert Foresman says the man and a friend were trying to reach an island in the river in Buena Vista when the man went under the water on April 10. Emergency responders and divers have searched the river since then. The search was suspended Monday evening. Foresman tells media outlets that expected rains likely will make the river rise and become murky.

RICHMOND, Va. (AP) _ State officials are moving ahead with plans to build two new veterans health centers without waiting for federal government funding. Democratic Gov. Terry McAuliffe announced Tuesday he is amending legislation as part of a bipartisan plan so that $67 million in state funds can be used to start construction on the centers without federal help. Virginia already has two centers in Richmond and Roanoke and plans to build the new ones in Northern Virginia and Hampton Roads. Officials said that by not waiting on federal funding to begin construction, they will speed up the opening of the new centers by several years. They said Virginia will eventually be reimbursed by the federal government for the construction.

OXFORD, Miss. (AP) _ Teresa A. Sullivan, the president of the University of Virginia, will speak May 9 at commencement at the University of Mississippi. Sullivan has served as Virginia's eighth president, the first woman elected to that position, since 2010. Sullivan, a graduate of St. Joseph's High School in Jackson, will speak to graduates, their families and other guests at 9 a.m. in the Grove on the Oxford campus. Sullivan earned her undergraduate degree from Michigan State University's James Madison College and her doctorate in sociology from the University of Chicago. She began her career as a sociology instructor at the University of Texas and later became executive vice chancellor for academic affairs. Before going to Virginia, she was provost and executive vice president for academic affairs at the University of Michigan.

RICHMOND, Va. (AP) _ Virginia's state revenues are higher than previously projected with March collections up nearly 12 percent higher than a year ago. Gov. Terry McAuliffe's office released figures Monday showing that total revenue collections are up 7.1 percent so far this fiscal year. That's more than 2 percentage points higher than the growth projected in a budget lawmakers approved in the 2015 legislative session. McAuliffe said the strong revenues are a sign that Virginia's economy is improving. The state's Department of Taxation also issued 1.8 percent fewer refunds in March of 2015 compared to a year ago.

ROANOKE, Va. (AP) _ Coal producer Xinergy Ltd. and more than two dozen subsidiaries have filed for Chapter 11 bankruptcy. Knoxville, Tennessee-based Xinergy filed a Chapter 11 petition last week in U.S. Bankruptcy Court in Roanoke, Virginia. The petition lists zero to $50,000 in assets and about $100 million to $500 million in liabilities. Xinergy produces steam and metallurgical coal at mining operations in Virginia and West Virginia. Xinergy CEO Bernie Mason says in a news release that U.S. coal markets have faced significant challenges in recent years, including declining demand and increased environmental regulations. Mason also says Xinergy's cash position has been eroded by a harsh winter that affected coal mining and shipments. Xinergy is seeking the court's approval to obtain debtor-in-possession financing. The company says it will continue operations while it reorganizes.

WALLOPS ISLAND, Va. (AP) _ NASA has scheduled a weekend launch of a rocket from its Wallops Island Flight Facility in Virginia. NASA says the Terrier Improved Malemute suborbital sounding rocket will carry experiments developed by undergraduate students at Virginia Tech, the University of Colorado, Northwest Nazarene University, the University of Puerto Rico and the University of Nebraska. The launch is scheduled for Saturday between 6:30 a.m. and 10 a.m. NASA had planned to launch the rocket in March but postponed the launch because of weather.

CHARLOTTESVILLE, Va. (AP) _ University of Virginia Board of Visitors member Dr. Edward D. Miller has resigned with a year of his term remaining. Miller tells The Daily Progress that he believes issues he advocated for weren't getting traction. He cited rising tuition and declining funding for research. Miller says he submitted his resignation to Gov. Terry McAuliffe in March but he had hoped to continue serving until June 30. On Friday, McAuliffe announced that he had appointed attorney Mark T. Bowles to replace Miller. Miller joined the board as an ex-officio member in 2011. He became a regular board member in 2012.