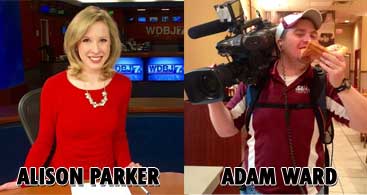 ROANOKE, Va. (AP) _ Virginia medical officials say a TV news reporter and cameraman who were killed during a live broadcast both suffered gunshot wounds to the head. The medical examiner's office in Roanoke office said Friday that WDBJ-TV reporter Alison Parker's official cause of death was gunshot wounds to the head and chest. Cameraman Adam Ward's cause of death was gunshot wounds to the head and torso. Homicide is listed as the manner of death for both Parker and Ward. The medical examiner's office did not specify how many times Parker and Ward were shot during Wednesday's attack.
PULASKI, Va. (AP) _ A 22-year-old Pulaski woman has been sentenced to 12 years in jail for severely burning a 1-year-old boy. Logan Hunter Quesenberry was sentenced on Tuesday. She entered an Alford plea in June, allowing her to maintain her innocence while acknowledging there was enough evidence to find her guilty. Police said Quesenberry was taking care of the boy at her home while his mother went to look for jobs. When the boy's mother saw her child, he had severe second and third degree burns all over his left arm and what appeared to be several cigarette burns on his abdomen, behind his ears, nose and other areas.
RICHMOND, Va. (AP) _ The U.S. Supreme Court is waiting to hear federal prosecutors say why they think it's time for former Virginia Gov. Bob McDonnell to start serving his prison sentence for public corruption. McDonnell has asked the justices to let him remain free until they decide whether to review his case. Chief Justice John Roberts has ordered prosecutors to respond to McDonnell's request by Wednesday. If Roberts or the court rejects McDonnell's request, it will set the wheels in motion for him to report to prison. McDonnell and his wife, Maureen, were convicted last September of doing favors for a wealthy businessman in exchange for more than $165,000 in gifts and loans. The former Republican governor was sentenced to two years in prison. His wife got one year and one day.
NORFOLK, Va. (AP) _ A fraternity has suspended activities at a university chapter in Virginia after an uproar over sexually suggestive banners hung from a private home where several of that fraternity's members live. Sigma Nu's national organization said it suspended the fraternity's activities at Old Dominion University in Norfolk pending completion of its investigation. Monday's suspension came after three large banners were draped Saturday from the balcony of a private home near the campus. The banners included one stating "Freshman Daughter Drop Off" with an arrow pointing toward the house's door. The banners stirred outrage on social media and condemnation from university officials and student leaders. Sigma Nu aid any fraternity members found responsible would be held accountable. Its statement says it also condemns the derogatory and demeaning language used on the banners.
RICHMOND, Va. (AP) _ The U.S. Supreme Court wants to hear from federal prosecutors before deciding whether former Virginia Gov. Bob McDonnell will have to go to prison while he appeals his corruption convictions. Chief Justice John Roberts issued an order Monday giving prosecutors until Wednesday to respond to McDonnell's request to remain free. The order also says a federal appeals court order that puts the wheels in motion to send McDonnell to prison will be put on hold until Roberts or the Supreme Court can decide on McDonnell's request. The ex-governor last week made a last-ditch plea to the high court after the 4th U.S. Circuit Court of Appeals rejected his request to remain free. McDonnell and his wife were convicted of doing favors for a wealthy businessman in exchange for more than $165,000 in gifts and loans.
ROANOKE, Va. (AP) _ A former Roanoke restaurant owner has been sentenced to one year and two months in federal prison for stealing disability benefits from the Railroad Retirement Board. The U.S. attorney's office says 46-year-old Christopher Mayo also was ordered Monday to repay more than $228,000 to the board. Mayo previously pleaded guilty to one count of stealing government money. He admitted that beginning in 2007, he falsely applied for and received monthly disability payments for which he was not entitled. An investigation showed that after applying for benefits, Mayo tried to conceal his ownership of Thelma's Chicken and Waffles in downtown Roanoke.

SWEET BRIAR, Va. (AP) _ Students are returning to classes at Sweet Briar College, months after the women's college in the foothills of Virginia's Blue Ridge Mountains seemed destined to shutter. The school's former leaders said in March the school would close under insurmountable financial woes. But former students refused to believe that. Alumnae took matters into their own hands, raising tens of millions of dollars to assure the 114-year-old liberal arts college would open this academic year. When students return this month, they'll have a new president. Phillip Stone left a law practice with his grown children to take over Sweet Briar. He's a former president at another liberal arts college where he oversaw large enrollment growth. Stone says growing enrollment from the present 300 to 800 students is key to Sweet Briar's survival.

RICHMOND, Va. (AP) _ Seven Virginia Retirement System officials top a list of the highest-paid state employees. The annual list compiled by the Richmond Times-Dispatch shows chief investment officer Ronald D. Schmitz was the highest-paid state employee in fiscal 2015, with a compensation package of $930,913. Charles W. Grant was the second-highest paid state employee, with a compensation package of $741,630. Grant manages the system's internal asset division. Five other retirement system officials earned at least $536,000. University presidents and professors, medical school administrators, and physicians also are among the top 25 earners. The newspaper says their total compensation may not reflect some forms of pay, such as deferred compensation and various allowances. The newspaper obtained the salary information through the Freedom of Information Act.

RICHMOND, Va. (AP) _ Virginia Commonwealth University is under federal investigation for how it addresses sexual violence. The Richmond Times-Dispatch reports that VCU has been added to the list of 131 higher-education institutions under investigation by the U.S. Department of Education's Office for Civil Rights. Neither the university nor the federal office would disclose details of the case that put VCU on the list. VCU this month put new procedures in place for addressing assault allegations, capping a yearlong effort to bring its Title IX polices into compliance at a cost of about $1 million. Five other Virginia schools are on the list of those being investigated. They are the University of Virginia, the College of William and Mary, James Madison University, the University of Richmond and Washington and Lee University.
CHARLOTTESVILLE, Va. (AP) _ A man charged with abducting and killing a University of Virginia student won't be allowed to wear personal clothing in court until his trial. Defense attorneys argued Thursday that Jesse Matthew Jr.'s case has already been prejudiced by news reports and courtroom sketches showing him shackled and wearing a jail-issued jumpsuit. They said he should be able to attend pretrial hearings unshackled and in personal clothes so he can more fully participate in his defense. Albemarle County Circuit Judge Cheryl Higgins denied the motion, but said she would decide on a hearing-by-hearing basis whether Matthew's restraints can be loosened enough to allow him to take notes. Matthew is charged with capital murder in the September 2014 disappearance and death of 18-year-old Hannah Graham. His trial is set for next summer.