RICHMOND, Va. (AP) – A federal prosecutor says he will not pursue federal criminal civil rights charges against three Virginia police officers who used stun guns multiple times on a black man before his death. U.S. Attorney John Fishwick Jr. said Thursday that an investigation into death of Linwood Lambert Jr. found insufficient evidence to prove that the three officers violated federal law by willfully using unreasonable force against the man. Lambert died after being taken into custody by South Boston Police Officers Tiffany Bratton, Clifton Mann and Travis Clay in May 2013. Police dash cam and hospital surveillance videos released last year show officers using stun guns on Lambert multiple times after taking him to a hospital for a mental health evaluation. An autopsy report said Lambert died of "cocaine-induced excited delirium."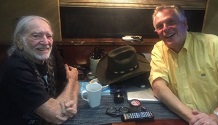 BRISTOW, Va. (AP) – Posing for pictures is part of every governor's job. Posing with a can of marijuana – not so much. But Virginia Gov. Terry McAuliffe did just that, inadvertently, when he went to greet country music legend Willie Nelson this weekend. A picture posted on Twitter shows McAuliffe and Nelson, who was performing in Virginia. On the table between them is a can of Willie's Reserve, Nelson's brand of marijuana that's sold in Colorado and Washington. Marijuana possession is illegal in Virginia. McAuliffe Spokesman Brian Coy said the governor spent about 10 minutes in Nelson's trailer and didn't realize what was on the table. Coy said McAuliffe wouldn't recognize marijuana or paraphernalia "if it walked up and shook his hand." Coy said McAuliffe may be cool, "but he's not that cool."

RICHMOND, Va. (AP) – An appeals court is set to hear a challenge to Virginia's law regarding life sentences without parole for juveniles convicted of capital murder. The U.S. Supreme Court struck down mandatory life terms with no chance of parole for teenage killers in 2012. The court ruled this year that even those convicted long ago must be considered for parole or given a new sentence. A man serving a life term for a murder he committed when he was 16 says Virginia law violates that ruling by effectively mandating life-without-parole sentences for some juveniles. Jason Clem is seeking a new sentence. Virginia officials argue Clem's life term wasn't mandatory because the judge could've suspended all or part of the sentence. The 4th U.S. Circuit Court of Appeals will examine the case Tuesday.
CHARLOTTESVILLE, Va. (AP) _ Four people convicted in the slaying of a Waynesboro reserve police officer have been sentenced to life in prison. Local media outlets report that Daniel Mathis was sentenced to life plus 132 years for the death of 45-year-old Waynesboro Reserve Police Capt. Kevin Quick. Shantai Shelton and Mersadies Shelton were each sentenced to life in prison plus 82 years and Kweli Uhuru was sentenced to life in prison plus 10 years. The four were found guilty by a Roanoke jury in February of murder and kidnapping in Quick's death. Quick was reported missing on Feb. 1, 2014. His body was found days later in woods northwest of Richmond. He had been shot.

WASHINGTON (AP) – Simon Tam has openly criticized the Washington Redskins team name as a racist slur that demeans Native Americans. But Tam and his Asian-American rock band, The Slants, have formed an unusual alliance with the NFL franchise as they both battle the U.S. government over trademark protection for names that some consider offensive. The Supreme Court could decide as early as this month whether to hear the dispute involving the Portland, Oregon-area band. And if the football team has  its way, the justices could hear both cases in its new term. At issue is a First Amendment challenge to a law barring the U.S. Patent and Trademark Office from registering trademarks that disparage minority groups.
NEW YORK (AP) – Gov. Andrew Cuomo said Sunday that an explosion that rocked a crowded Manhattan neighborhood, injuring 29 people, doesn't appear to be linked to international terrorism, and he vowed that authorities would find and prosecute whoever was responsible. He noted that 1,000 additional law enforcement officers were being deployed after the Saturday night blast in Chelsea, a primarily residential neighborhood on Manhattan's west side that's known for its art galleries and large gay population. He encouraged New Yorkers to go about their day as usual. "We're not going to let them win," Cuomo said at the scene. "We're not going to let them instill fear." The Democratic governor said the preliminary investigation didn't appear to show a link to international terror, and he noted that no terror group had taken credit for it.

CHARLOTTESVILLE, Va. (AP) _ The University of Virginia's board of visitors says it will consider student-submitted proposals for how to use money from a $2.2 billion investment fund that has been the subject of recent criticism.  The Richmond Times-Dispatch  reports Vice Rector Frank Conner made the announcement Wednesday, responding to a letter of concern from the Student Council that students were not given a voice in the establishment of the Strategic Investment Fund. Rector William H. Goodwin says the board will begin reviewing grant proposals on Friday. Former rector Helen Dragas characterized the fund as a "slush fund" in a July column in The Washington Post. UVA says the fund is not connected to tuition or public funding. State auditors told lawmakers last month that there was nothing improper about the fund.

RICHMOND, Va. (AP) _ Virginia officials have signed a contract with a vendor to obtain execution drugs, but are shielding the name of the vendor and the price of the drugs. A new state law passed last legislative session allows officials to keep secret the suppliers of drugs used to carry out executions. A memorandum of agreement obtained by the Richmond Times-Dispatch  through a Freedom of Information Act request redacts not only the identity of the supplier, but the date the contract was signed and the amount the state will pay for each batch of drugs. The agreement may be good for up to seven years, but can be ended by the vendor at any time. There are seven men currently on death in Virginia, but no execution dates have been set.

RICHMOND, Va. (AP) – Virginia has created a new online portal to help students impacted by the closure of the for-profit college chain ITT Technical Institute. The website includes information about where students can seek loan forgiveness or continue their education at another institution. ITT shuttered all 130 of its U.S. campuses earlier this month, saying it can't survive recent sanctions by the U.S. Department of Education. ITT had five campuses in Virginia in Salem, Chantilly, Norfolk, Virginia Beach, and Richmond. Gov. Terry McAuliffe is encouraging students who attended ITT in Virginia to call their nearest community college to find out how they can continue their education.